A framegrab from a Salt Lake police officer's body camera video during a March 26 shooting death in Salt Lake City. (Salt Lake police)
Estimated read time: 5-6 minutes
SALT LAKE CITY — Police on Thursday released dramatic body camera video of a fatal shootout between officers and a man who carjacked a vehicle at gunpoint on the 600 South off-ramp, then led police on a chase and fired at officers.
In the videos from two officers, a volley of shots can be heard almost immediately from the time the officers exited their vehicle. Between two to three dozens shots are fired in total from all parties.
Matthew Henry Cieslak, 38, of Idaho, was killed in the exchange. Neither officer was injured. But in body camera video, after the shootout is over, at least one bullet hole can be seen in the back windshield of the unmarked patrol car that the officers were taking cover behind.
"This was a very dynamic, dangerous and traumatic situation for everyone, but I am proud of our officers for the way they protected each other and our community when faced with an unimaginable and deadly situation," Salt Lake City Police Chief Mike Brown said Thursday in a prepared statement upon release of the videos.
The incident began on March 26 when Cieslak attempted to carjack a vehicle on the 600 South off-ramp from I-15. Salt Lake police say 16 people called 911 during the incident. Emergency dispatchers received their first call at 5:47 p.m.
"There's a guy with a gun shooting," the first caller tells the dispatcher. In the background, several people can be heard panicking with at least one woman crying as the man tells them to "stay down." Initially, the dispatcher has trouble getting the caller's attention as the caller is apparently still trying to drive to a safe place.
"On the 6th South off-ramp, there's a guy standing in the middle of the road shooting," the caller eventually said.
One woman tells dispatchers in another call that everyone is backing up and trying to get off of the off-ramp.
"I don't know what his deal was. He was flagging people down, then pulled a gun right at somebody's windshield and made them stop their car," another caller told dispatchers.
After unsuccessfully attempting to carjack one vehicle, Cieslak pointed a gun at Tyler Goudy, 27, and Ehsan Arman, 31, and forced them out of their vehicle. As the two men were running away, one of them threw the car keys back at Cieslak, then called 911 as Cieslak drove off in his car.
"I just got robbed at gunpoint on the exit at 600 South. A man took my car," he told the dispatcher, admitting that he was shaken up. "First time a gun pointed at my face. … I thought he was going to shoot me."
The man said a shot was fired, but not at them. He believed Cieslak shot at the first vehicle he attempted to carjack as it drove away from him. No bystanders were injured.
By 5:49 p.m., officers spotted the stolen vehicle near 200 South and 400 West and a chase ensued. Two minutes later, additional officers attempted to spike the fleeing vehicle's tires. At 5:52 p.m., pursuing officers notified dispatchers that Cieslak had crashed and become high-centered in an industrial area near 220 S. Orange Street (1350 West).
"He's bailing out, he's bailing out," one officer is heard in body camera video telling the other as the two pursued Cieslak in the same car.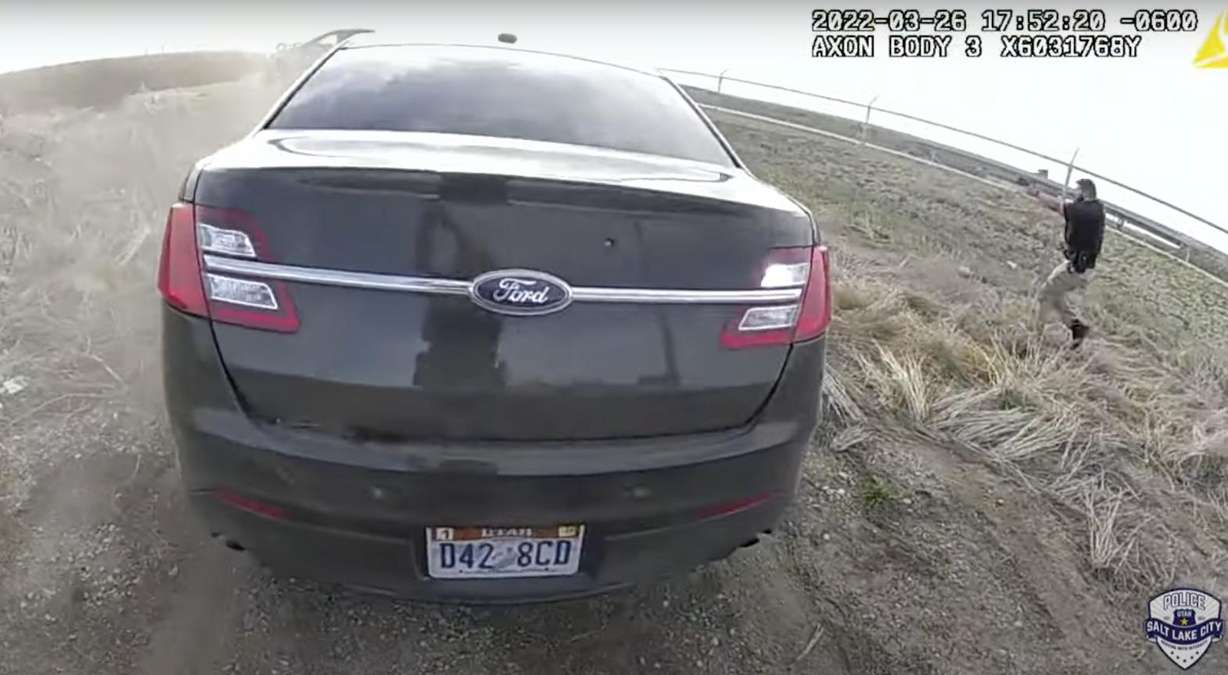 As the officer in the passenger seat exits, he yells, "Show me your hands!" and "Drop your gun!" But shots rang out almost immediately.
"Instantaneously, shots, in rapid succession, were exchanged between the subject and the two officers," police said Thursday in a statement.
"Shots fired," the other officer can be heard telling dispatchers.
One officer immediately took cover behind his patrol car as he returned fire while the other backed up quite a distance before cautiously moving back to the patrol car for cover. Both officers empty their clips and reload in the videos. After an initial volley of shots, there is a pause followed by additional shots. According to police, Cieslak began running toward the officers while holding a gun in his right hand.
"There is a brief pause in the volley of gunshots, which is when one of the officers sees the subject running from the front passenger door of the vehicle and past the trunk in the direction of the officers," police said.
The officers continued briefly to shoot after Cieslak had fallen to the ground, but his gun was still in reach, according to Salt Lake police. After the shooting was over, police and paramedics gave medical attention to Cieslak for 15 to 20 minutes before pronouncing him dead.
Once the investigation into the shooting is completed by an outside police agency, the Salt Lake County District Attorney's Office will determine whether the officers were justified in using deadly force.
Friends of Cieslak say his actions that day were completely out of character for him and that he was suffering a mental health crisis that day, possibly from post-traumatic stress disorder.
Cieslak was a decorated war veteran, who, according to one social media post, spent 15 years as a Special Forces medic. He served several tours of duty, and in 2010, received the prestigious Utah Cross award while serving with the Utah Army National Guard's 197th Special Troops Company and saving a man's life in Cambodia. The Utah Cross is the second-highest award presented by the Utah National Guard.
Cieslak's commanding officer for many years said he was undergoing treatment at the George E. Wahlen Department of Veterans Affairs Medical Center in Salt Lake City at the time of his death, but didn't have all the details about his condition or what he was being treated for.
Friends stated Cieslak grew up in the small town of Sugar City, Idaho, north of Rexburg. A viewing for Cieslak was held a week ago in Chubbuck, Idaho, outside of Pocatello, along with funeral services at the Inkom City Cemetery "with full military honors," according to his obituary.
×
Photos
Pat Reavy is a police and courts reporter at KSL.com.
More stories you may be interested in