Friday, Mar. 11, 2022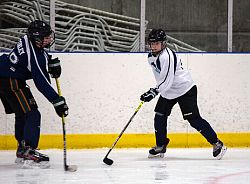 Courtesy photo
For the first time in eight years, a hockey team was fielded under the Soaring Eagle banner.
By Linda Petersen
Intermountain Catholic
SALT LAKE CITY — Utah Catholic high schools broke several school and state records this season in swimming and basketball, took home first-place trophies and medals, and saw the reemergence of a school hockey team.
JUAN DIEGO CHS
Hockey
For the first time in eight years, hockey coach Moe Van der Sluys was able to field a team under the Soaring Eagle banner. Previously, not enough students from Juan Diego Catholic High School signed up for the sport, so those who did played with the Oquirrh team that was made up of students from several schools, which had great success.
This year, the newly reorganized Juan Diego team finished sixth in Utah High School Hockey Division 2 after a third-round defeat of 2-6 against Bingham High School at the Feb. 23 playoff game at the Salt Lake County Ice Center.
Previous to that, in the state playoffs, JDCHS beat Davis County Independent 5-2, but lost 3-2 to Park City. They also defeated Northern Utah Independent 5-2.
This year the team had 14 players, which is a very light roster, Van der Sluys said.
"It's extremely challenging" because of the students' academic course load and the travel schedule of some who continue to play club hockey, he said, "but we made it through really nicely — better than expected."
Van der Sluys praised Nathan Schilly as goalie, as well as the progress of senior Kailey Mulcahy, who had never played hockey before high school.
Captain Tommy Filldore, a junior, did extremely well with his stats, finishing fifth overall in points and fourth in goals, the coach said.
"Then it really came down to the depth of the team," which had just three juniors and was rounded out by freshmen and sophomores, he said. "How they all stepped up was just great."
Drill
At the 3A state competition Feb. 3 and 4 at the UCCU Center at Utah Valley University, the Soaring Eagle drill team took third overall behind Canyon View and North Sanpete. Their routines earned them second place in Military and third in Show.
Girls Basketball
In the first round of state competition, the Juan Diego girls basketball team beat North Sanpete 53-44 at home. In the second round of state play at Judge Memorial CHS Feb. 18, they were defeated by the Bulldogs, the eventual state champions, 70-33. They finished the season third in region, with a 6-17 overall record.
Boys Basketball
Juan Diego was number one in region for the eighth straight year. At state, after a first-round bye, the Soaring Eagle beat South Summit 49-47 at home Feb. 19, then defeated Morgan 49-43 Feb. 24 in the quarterfinals at Weber State.
In the semifinal match, they lost to eventual champions Layton Christian 80-69 Feb. 25.
"We ended up playing a lot of young guys," coach Drew Trost said. "We started a sophomore, a freshman and three juniors. It took us a while to hit our stride. The season finish was disappointing because I really thought we were starting to peak."
The team made a big turnaround in a midseason game against Judge, which began a 10-game winning streak  that ended only with their defeat in the semifinal game.
Several players had notable seasons.
Sophomore Malick Diallo, who Trost said "was incredible all year," set a school record for rebounds in a season and averaged just under 19 points and 12 rebounds per game, while freshman Noah Bendinger received a second all-time record in making 61 three-pointers in a single season.
"He could really, really shoot," Trost said. "To start and contribute that much as a freshman is really impressive."
With only three seniors on the team this year, the future looks bright for upcoming seasons, Trost said. "I think that there is a great foundation laid by a lot of past players that have been excellent. Playing young guys like that is good because it just throws them in the fire and gives them a lot of valuable experience. I think that next year should be great."
Wrestling
Junior Yvette Star Vargas took first in 1A/2A/3A state competition Feb. 16-17 at the Sevier Valley Center in Richfield (see "Wrestler takes state title").
Two other girls, sophomores Skyley Hanna (at 125 pounds) and Ximena Torales-Quintan (at 125), also made it to state, where Quintan took sixth. Hanna was injured during the competition.
"Both are first-year wrestlers, so their careers are ahead of them," said coach Zac Petereit.
Swim
The Soaring Eagle boys came in third overall at the state swim meet Feb. 12 at Cottonwood Heights Aquatics.
The team of Charlie Gleason, Irvane Nelson, Joseph Shami and Ethan Atzet took third in the boys 200 yard medley relay with a time of 1:46.59.
In the 200 yard freestyle relay, the team of Gleason, Shepherd Foy, Khristian Swick and Atzet came in first with a time of 1:32.90.
In the 50 yard freestyle, Atzet took silver with a time of 22:02, while Joseph Shami came in fifth. Atzet also came in first in the 100 yard freestyle (49.26).
At the state meet, the girls team came in fourth overall, although they did set two records.
The team of Thais Tosolini, Audrey Weller, Lyla Sylvia and Morgan Rutledge tied with Judge for first place in the 200 Medley relay with a time of 1:59.18, setting a new school record.
The team of Weller, Sylvia, Elise Baker and Rutledge took silver in the 200 yard freestyle with a time of 1:48:26.
In the 200 yard individual medley, Audrey Weller came in first and set a new state record with a time of 2:13:40. She also took gold with a 1:06:42 in the 100 yard breaststroke and was named Swimmer of the Meet.
Coach John Moran, who also is president of the Utah Swimming Coaches Association, presented Weller with that award, which he said was particularly gratifying.
The team had a lot of injuries this year and as a result, several swimmers were unable to compete at state.
The team has only four graduating seniors, which "bodes well for our future," Moran said.  
JUDGE MEMORIAL CHS
Girls Basketball
The Lady Bulldogs brought home a state title after an undefeated season (see "Bulldogs basketball goes undefeated").
Boys Basketball
In the first round of state competition Feb. 16, the Judge Memorial Catholic High School team defeated Carbon at Carbon, 45-39. They then lost 61-44 to Grantsville Feb. 19 at Grantsville, finishing the season 7-16 overall.
Swim
Both the boys and girls' teams claimed state championships Feb. 12 at Cottonwood Heights Aquatics. (See the story in the Feb. 25 Intermountain Catholic.)
ST. JOSEPH CHS
Swim
St. Joseph Catholic High School junior Will Jones broke two state records at the 3A state meet Feb. 11-12 at Cottonwood Heights Aquatics. (See the story in the Feb. 25 Intermountain Catholic.)
Also at state, the team of Jones, Aiden Wilson, Daniil Kulynych and Matt Gough finished in 16th place in the medley relay with a time of 2:07.51. It was the first time the boys team had qualified for state relay competition.
In the freestyle relay, while the Jayhawks did not place, they dropped three seconds off their previous best time and set a school record. The boys finished 14th overall.
The girls team of Macie Lane, Lola Beneke, Mady Yates and Savannah Smith placed 12th in the 400 yard freestyle with a time of 4:41.44. The same team came in 15th in the 200 yard medley with a time of 2:27.59.
In 200 yard freestyle Beneke came in 13th with a time of 2:25:02.
Boys Basketball
In state play, the Jayhawks boys basketball team lost in the first round Feb. 16 to North Sevier 63-45 at North Sevier. They finished the season 4-15 overall.
Girls Basketball
The girls basketball team beat Waterford 51-43 at home in the first round of state play Feb. 15, but lost to Kanab at Kanab 73-23 Feb. 18. The Jayhawks took second in region and finished the season 9-9 overall.
Courtesy photoFor the first time in eight years, a hockey team was fielded under the Soaring Eagle banner.">