The U.S. government is putting the pedal to the metal when it comes to cryptocurrency regulation; today, that attitude is unwavering as lawmakers introduce the ECASH Act. This act could introduce a central bank digital currency (CBDC) for the U.S. This crypto news is stirring up a lot of chatter around what such a CBDC will look like and what it means for investors.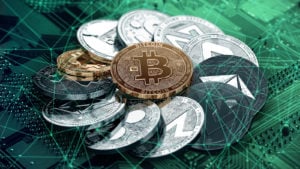 Source: Shutterstock
Things are really heating up for crypto legislation in the U.S. this month. More people are paying attention to the digital money industry than ever before; there's also a vastly increasing level of scrutiny being levied at aspects of it. One of the bigger debates among policymakers and citizens alike is the possibility of a CBDC.
CBDCs are a bridge between the world of fiat and crypto. The coins are built by nations themselves to supplement their fiat programs. CBDCs are linked to the value of a nation's fiat. In the case of the U.S., a CBDC would likely be linked to the price of $1 USD.
These central bank currencies open up a lot of potential in the eyes of bulls. They can greatly streamline payment systems in countries that implement them. Indeed, adoption of digital assets removes the requirement of physical cash from much of everyday life. Moreover, the implementation of CBDCs would make international money transfers much faster and cheaper, among a slew of other pros.
President Joe Biden is addressing CBDCs head on this month, marking the first serious attempt to implement a central bank crypto in the U.S. In his crypto executive order, Biden emphasized CBDCs. He tasked leaders across U.S. fiscal agencies with researching and creating a recommendation for a U.S. version.
Crypto News: ECASH Bill Makes for First U.S. CBDC Bill
Today's crypto news sees the recent CBDC talk take shape as U.S. policy for the first time. Democratic lawmakers are introducing the Electronic Currency and Secure Hardware (ECASH) Act, which sets the stage for central bank crypto policy.
Representatives Stephen Lynch, Jesús Chuy Garcia and Ayanna Pressley are introducing ECASH on Monday in an effort to give CBDC control to the U.S. Treasury, rather than the Federal Reserve. Previously, Biden had vested this power with the Federal Reserve. However, the bank must work with Treasury Secretary Janet Yellen and other agency leads on researching and deciding on the terms of a CBDC.
The proposal sets various terms for what the U.S. CBDC could look like. Specifically, the bill defines the digital dollar as legal tender, functioning just as a physical dollar. Users can store their tokens on a card or on their phone. By foregoing ledger technology, this proposal would allow CBDC transactions to remain completely anonymous.
Notably, the proposal advocates for a token-based system, rather than an account-based one. This means that if one were to lose their card, it would be like losing a wallet full of cash. This system would be punishing to those who lose their tokens. But, it is rewarding to citizens who don't have the means to open the traditional banks accounts required of an account-based system.
The proposal, if accepted by lawmakers, would put much of the power in creating the token in the hands of Treasury Secretary Janet Yellen. While not previously perceived to be much of a crypto bull, Yellen shocked crypto advocates last week when she displayed a vast change of heart. Indeed, Yellen recently expressed that crypto technology and its benefits "can be a healthy thing."
On the date of publication, Brenden Rearick did not hold (either directly or indirectly) any positions in the securities mentioned in this article. The opinions expressed in this article are those of the writer, subject to the InvestorPlace.com Publishing Guidelines.