1 min ago
US Pentagon official praises Ukraine forces: "They are fighting very creatively"
From CNN's Jason Kurtz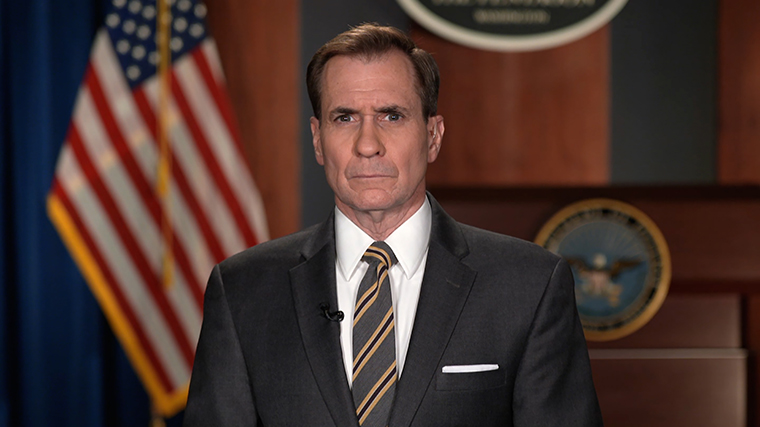 Pentagon Press Secretary John Kirby commended the effort Ukrainian forces are putting forth as the Russian invasion continues.
"They are fighting bravely in the streets, and outside their cities, and they are fighting very creatively," Kirby said while speaking live with CNN's Wolf Blitzer.
As for the Russian convoy that has seemingly stalled outside of Kyiv, Kirby said he feels that Russia remains focused on completing a siege of the capital city.
"As of this morning, we still assessed that the advance of the Russian forces was still about 25 kilometers from the city center, but they are trying to close in," he said. "They are still outside the city, but we still believe that their intent is to try to encircle Kyiv, and ultimately occupy it."
Despite Russian President Vladimir Putin saying the invasion is "going according to plan," Kirby offered a different assessment.
"The Russians have been flummoxed, they've been frustrated, they have been set back, they have been slowed by a stiff and determined Ukrainian resistance. We also believe that they have stumbled themselves," he said. "They're having logistic and sustainment problems. They're running out of fuel, they're running out of food for some of their soldiers. They have been surprised by the manner in which, and the effectiveness, with which the Ukrainians have been defending their cities, and their people."
19 min ago
Biden administration giving interviews to Russian-language news outlets to counter Kremlin disinformation
From CNN's Kylie Atwood
Senior Biden administration officials have done at least seven interviews with Russian-language news outlets in recent days as part of an effort to counter the Kremlin's disinformation about the Ukraine crisis and speak directly to a Russian audience, US officials explained.
State Department under secretary for political affairs Victoria Nuland did an interview with Echo of Moscow Radio today, the day after the Kremlin took the radio station off the airwaves. The State Department reached out to the outlet to propose the interview, according to a US official, and it was aired on the radio's YouTube channel. And the day before the outlet was shut down, State Department spokesperson Ned Price did an interview with the outlet.  
The department will continue to support these outlets even after the Kremlin bans them, as an effort to keep their work relevant, US officials said. Top Biden administration officials are also aggressively calling out the Kremlin for cracking down on the media. 
"The Kremlin right now is engaged in a full assault on media freedom and the truth," White House press secretary Jen Psaki said Thursday, saying the White House is "deeply concerned" about those steps.
She cited restricted access to independent news networks Echo of Moscow and TV Rain, as well as threats to block online platforms including VOA Russia. 
Price said on Wednesday night that the "Kremlin is engaged in a full assault on media freedom and the truth, and Moscow's efforts to mislead and suppress the truth of the brutal invasion are intensifying."
1 hr 14 min ago
Biden administration extends immigration relief to Ukrainians in the US
From CNN's From Priscilla Alvarez and Lauren Fox
The Department of Homeland Security will allow Ukrainians who are in the United States to remain in the country under a form of humanitarian relief.
The relief – known as Temporary Protected Status, or TPS – applies to people who would face extreme hardship if they were forced to return to homelands devastated by armed conflict or natural disasters. As such, these protections are limited to people already in the United States. DHS secretary has the discretion to designate a country for TPS.
"Russia's premeditated and unprovoked attack on Ukraine has resulted in an ongoing war, senseless violence, and Ukrainians forced to seek refuge in other countries," DHS Secretary Alejandro Mayorkas said in a statement announcing the move. "In these extraordinary times, we will continue to offer our support and protection to Ukrainian nationals in the United States."
Some 30,000 Ukrainians on visas could benefit from this protected status, according to the Migration Policy Institute, a non-partisan think tank. Extending TPS to Ukrainians who have been issued temporary visas would shield them from deportation when those visas expire. Individuals must have continuously resided in the US since March 1 to be eligible. The TPS designation will be in place for 18 months. 
US President Joe Biden's administration has been under pressure from Democratic and Republican lawmakers, along with immigrant advocates, to provide protections to Ukrainians in the US who can't return to war-torn Ukraine.
In a letter to President Biden this week, a bipartisan group of senators urged the administration to extend the relief, writing: "Forcing Ukrainian nationals to return to Ukraine in the midst of a war would be inconsistent with America's values and our national security interests."
Ukraine joins a list of 12 countries — including South Sudan and Venezuela — that have also been designated for TPS.
In a live CNN interview on Wednesday, New Jersey Sen. Bob Menendez detailed the importance of granting TPS to Ukraine, telling Jake Tapper:
"You can't take Ukrainians who legally enter the United States and happen to be here, to then send them back to a war zone."
Before today's announcement, Menendez closed by telling Tapper he "would expect the administration to ultimately grant TPS. I don't see how they do not."
13 min ago
President of Georgia on Ukraine crisis: It looks like Putin is destroying the "whole country"
From CNN's Maureen Chowdhury
The President of Georgia Salome Zourabichvili told CNN's Jake Tapper that she doesn't believe that Russian President Vladimir Putin is only aiming to take select regions of Ukraine, but that he's "destroying the whole country."
"It doesn't look anymore that he's just aiming at annexing a few regions. It now looks that he's destroying the whole country. It's a war of mass destruction in a way," Zourabichvili said.
She added, " I heard his declarations today that all of that is moving according to plans, I'm not so sure that it's according to plans…  He was not planning on the way Ukraine is resisting. He had a mass assault that was very psychological with his forces that were used from all sides. And it has not worked. Of course militarily, he has superiority, which one day or the other will manifest itself. But the determination and the resistance of the Ukrainian people and leadership is really very admirable."
Georgia is a former Soviet Republic and has recently formally signed an application for membership into the European Union.
Watch whole interview here:
1 hr 31 min ago
More than a million refugees have fled Ukraine. Here's how you can help.
From CNN's Ryan Bergeron
Russian bombardments are increasing and fighting continues throughout Ukraine, sending people fleeing for safety.
Residential areas around the country have been hit by Russian forces sending more than a million refugees from Ukraine into neighboring countries. The rush of people trying to leave has led to hours-long lines at some of these borders.
The Russian invasion has sparked a need for humanitarian aid. Food and supplies inside the country are becoming increasingly scarce. Organizations are on the ground in Ukraine and neighboring countries to help with shelter, food, water, and additional aid.
You can find out how to help here.
2 hr 43 min ago
Ukraine Defense Ministry says it destroyed 20 Russian vehicles near Hostomel Air Base
From Celine Alkhaldi, Paul Murphy and Tim Lister
The Ukrainian Defense Ministry said it destroyed a total of 20 Russian military vehicles near the Hostomel Air Base on Thursday.
Videos posted to social media show Ukrainian soldiers walking by damaged and burning vehicles marked with the V sign that suggests they were among Russian forces that came from Belarus. 
The start of the 40+ mile convoy, identified on satellite images, was just north of the Hostomel Air Base.
CNN has geolocated and verified the authenticity of the videos to an area about five miles away from the Hostomel airfield, which was reported captured by Russian forces on Feb. 24.
The Defense Ministry's Twitter account says: "In total, during the day, special forces destroyed 20 enemy combat vehicles in Hostomel."
"The battle is being waged by a combined group of special forces led by the GUR of the Ukrainian defense ministry and local resistance groups," the tweet said.
3 hr 13 min ago
Kherson mayor calls for looting to stop
From CNN's Mariya Knight in Atlanta
The mayor of the Ukrainian city of Kherson Ihor Kolykhaiev called on people to stop looting and stealing food supplies Thursday.
The "city needs food and industrial products. This is especially for the most unprotected layers of the population. I appeal to all supermarket owners, big stores, warehouses, food stores, and anyone who finds this message useful. The city is ready to take control of the distribution of your remaining products. We guarantee that it will reach where it is now most expected — hospitals, orphanages, pensioners, needy, families with many children, social categories, etc," Kolykhaiev said in a Facebook post.
Meanwhile, Yaroslav Kontsevyi, a Kherson resident, tells CNN that Russian occupants have placed checkpoints and sniper points in key places of the city.
Kontsevyi says the Russian occupants are stopping civilian Ukrainian men and asking them if they are going to fight on the Russian or Ukrainian side in case of mobilization.
3 hr 18 min ago
Former Russian foreign minister: War in Ukraine "a barbaric act"
From CNN's Arnaud Siad
Former Russian Foreign Minister Andrei Kozyrev has called the war in Ukraine "barbaric" in an interview with CNN on Thursday.  
In an interview with CNN's Christiane Amanpour, Kozyrev said, "It's a barbaric act. Whether I could imagine it when I was the foreign minister, it was completely out of question."
"But later on, I started to understand that they are going down the hill, so to say, and they feel impunity, both at home and abroad. And that's kind of increased the appetite unfortunately, not for building Russia. Now they are destroying the future of all brotherly people with this fratricidal war," he added.
Kozyrev also said sanctions from the West against Russia "should start to target the decision-makers or executers of those decision-makers in the government. 
He cautioned that sanctions targeting Russian President Vladimir Putin and Foreign Minister Sergey Lavrov are "like doing almost nothing — because nothing, I think, is in their names … You can't find their assets. It's all [with] other people."
On Tuesday, Kozyrev took to Twitter calling on all Russian diplomats to resign from their posts in protest of Russia's ongoing invasion of Ukraine. 
Kozyrev was the first foreign minister of Russia under Boris Yeltsin after the dissolution of the Soviet Union.
3 hr 20 min ago
US military establishes communications line with Russia to avoid any incidents near Ukraine
From CNN's Barbara Starr and Oren Liebermann
The US and Russia have established communications channel where the two sides can notify each other of any potential operations that may be in close proximity to avoid any possible miscalculations near Ukraine.
"The Department of the Defense recently established a deconfliction line with the Russian Ministry of Defense on March 1 for the purposes of preventing miscalculation, military incidents, and escalation," a senior US defense official said in a statement. "The United States retains a number of channels to discuss critical security issues with the Russians during a contingency or emergency." 
The communications line is basically an exchange of phone numbers between both sides for quick access. The US side will be run out of the US European Command's operations center in Stuttgart, Germany, while the Russian side is expected to be coordinated out of the Ministry of Defense in Moscow, a second senior defense official said. 
The US had wanted a communications channel because US and Russian troops are now operating on the so-called eastern flank close to Ukraine and Belarus airspace where Russian forces are staging and attacking.
The second official did not know what events would specifically trigger a phone call on either side, but the overall idea is to ensure "we can reduce the risk of miscalculation and potential misunderstanding" given the potential proximity of forces. It was also not immediately clear to what extent NATO aircraft would be included in the agreement. It is also unclear if US and Russian ships are included.               
Air operations are particularly concerned because of the high speed and relatively short distances at which encounters could occur given Russian aircraft are operating close to the areas where US troops are in Poland, Romania and the Baltic nations.    
The establishment of the agreement is particularly noteworthy because until now Pentagon officials have said they have not had any direct communications with Russian counterparts since the invasion. 
There had been an effort to establish the communications line since late last month. US Defense Secretary Lloyd Austin last spoke with Russian Minister of Defense Sergey Shoygu on Feb.18. The two also spoke one week earlier. Joint Chiefs Chairman Gen. Mark Milley last spoke to the Chief of Russian General Staff Gen. Valery Gerasimov on Feb. 11.
The US has specifically rejected a no-fly zone over Ukraine saying it would put US pilots into a combat scenario in order to enforce such a plan. But the door is not shut on a potential future air humanitarian corridor to guarantee safe flight of relief supplies hostilities cease, officials say.
More back ground: A deconfliction protocol has existed for several years between US and Russian forces in Syria. For the most part it has worked, although US officials have complained on several occasions the Russians have not given enough advance warning of their operations. The US does not give Russia detailed information but did notify them recently when US aircraft would be operating in a broad area northeast Syria. 
NBC News first reported the establishment of the deconfliction channel.