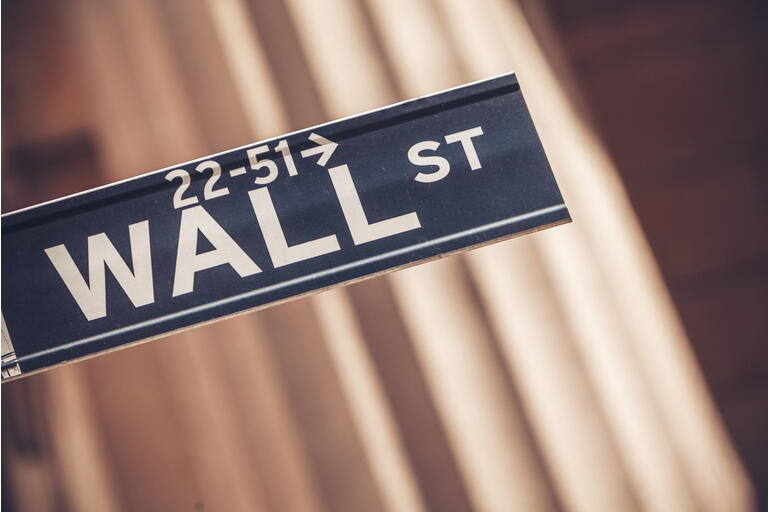 Snap Inc. is Included in 5 of the 6 Metaverse Exchange Traded Funds [ETFs]
The below table focuses on the greatest frequency of a stock holding in the 6 metaverse exchange traded funds [ETFs] that I have identified in this Seeking Alpha article:

While Google (NASDAQ:GOOG) (NASDAQ:GOOGL), Meta Platforms (NASDAQ:FB), Roblox (NYSE:RBLX), Sea Limited (NYSE:SE), Twitter (NYSE:TWTR) and Unity Software (NYSE:U) are included in 4 of the 6 ETFs [see right column of the above table], Snap Inc. (SNAP) is included in 5 of the 6 ETFs. GOOG and FB represent the largest holdings in 2 of the 6 ETFs, Roundhill Ball Metaverse ETF (NYSEARCA:META) and O'Shares Global Internet Giants ETF (BATS:OGIG) [see above table with green boxes]. The Next Frontier Internet & Ecommerce ETF (NYSEARCA:FMQQ) contains "none" of the 7 stocks occurring in at least 4 of the metaverse ETFs [see the FMQQ column in the above table], while OGIG and Exchange Traded Concepts Trust – Fount Metaverse ETF (NYSEARCA:MTVR) have positions in all 7 of these stocks. Zynga (NASDAQ:ZNGA) will be acquired by Take-Two (NASDAQ:TTWO), as announced on January 10, 2022, but ZNGA represents a holding for only 1 of the 6 metaverse ETFs – MTVR [not shown in the above table].
Snap is No Longer Outperforming All 6 Metaverse Exchange Traded Funds Year-to-Date
The below graphic was developed using my Fidelity account. Note the "drop off a cliff" and the October 21, 2021, Reuters news release, as follows: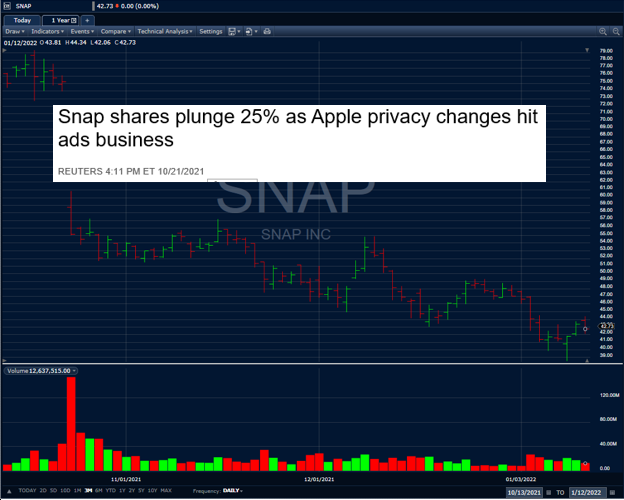 The below year-to-date chart and analyst excerpt were sourced and created using my Fidelity account on January 14, 2022, before the market open: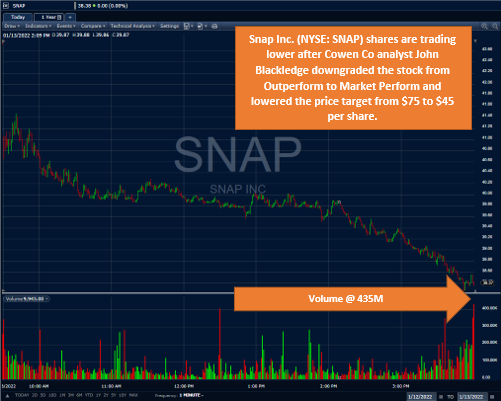 As the above suggests, a price target reduction from $75 to $45 is quite significant. 65% of this stock is held by institutions [source: TDAmeritrade] and 435 million of 1.6 billion shares traded on January 13, 2021, in what can only be characterized as an "institutional dump."
Expect the metaverse ETFs to reduce positions in Snap, if they have not, already. Also, expect short interest to grow from 4.02% on December 31, 2021, [source: TDAmeritrade], in coming months andor until some positive catalyst presents itself. The Apple privacy changes announced in October 2021 will continue to adversely impact SNAP's ability to generate ad revenues.
Opinions Vary on the Future of SNAP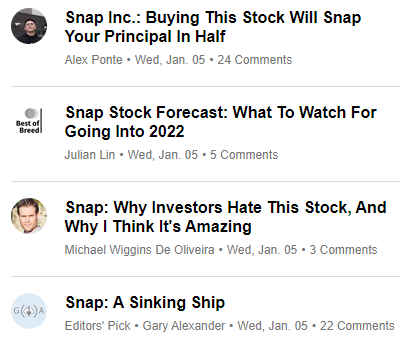 On a single day [January 5, 2022], Seeking Alpha published 4 articles on SNAP; a balanced approach – two were bullish and two were bearish, as follows:

Two Analysts Have Lowered Price Targets
The below were captured from my TDAmeritrade account on January 13, 2021, prior to the market open:

Again, you should expect all software and tech and growth stocks to be very volatile during 2022 [the below is from January 11, 2022]:

The Pundits and Some Anecdotal Observations About Sector Rotation

Nearly a year ago the pundits agreed that a move from "growth" to "cyclicals," "value," and "dividend paying" stocks was and remains warranted for a significant portion of your portfolio. They were a bit early, but that move, along with increased volatility, appears to be "in progress."
Energy and financials are doing well, and the consensus is that they will continue to do well during the 2022 calendar year. This, as inflation and mortgage rates are already increasing, and it is broadly accepted that the Federal Reserve may have to do 4 instead of 3 rate hikes for 2022. Therefore, my focus is only on very selectively nibbling in on the "metaverse" stocks. I would, of course, not recommend Snap until sector conditions reverse, and in their favor.
Summary
Apple (NASDAQ:AAPL) has power over Snap. Both are metaverse stocks. I would not expect any of the ETFs to increase their position in Snap. In fact, I would expect these metaverse ETFs to decrease their positions in Snap. This, in addition to the fact that nothing has changed since the October 2021 news release with respect to the Apple privacy policy change and analyst downgrades suggests, to me, that large, long-term positions in Snap should be avoided.
POSTSCRIPT: My Other Seeking Alpha Articles Covering Metaverse Stocks
My other Seeking Alpha articles covering metaverse stocks include these: Block, Inc. (NYSE:SQ), PayPal Holdings, Inc. (NASDAQ:PYPL), and U.S. Energy Initiatives Corporation Inc. (OTCPK:USEI) & Metal Arts Company, Inc./Medium, Inc. (OTCPK:MTRT). My starting point for identifying metaverse stocks is the META exchange traded fund. USEI and MTRT and Metaverse Capital (OTCPK:GBCHF) were NOT included in that fund. I will attempt to identify additional metaverse stocks until I have exhausted the universe of equity securities in this growing "sector" of the worldwide economy. If I recommend one of these stocks, it is as long-term investments, and not as day-trades, unless otherwise stated (e.g., USEI & GBCHF).
NOTE: I emailed all 6 of the metaverse funds to recommend that they establish modest positions in MTRT. Of course, they may ignore this emailed recommendation.
This article was written by
Full name for licenses is Anthony Joseph ("A.J.") Cataldo II.  Retired university accounting professor, CPA, CMA, CGMA and author of 10 books and 200+ articles and columns in 50+ different journals and outlets, with experience as CFO, Government Auditor, Public Accountant and Litigation Support Expert Witness in cases involving GM, Ford, and other big cap firms.  Years ago, the Securities and Exchange Commission used 3 of my research articles in a fraud case.  I have taught at 10 universities including Northeastern & UCBerkeley (online and during Covid).Paige Whiteside is my niece, a Master's of Finance student at the University of Arizona, with an undergraduate degree from Arizona State University, and I have encouraged her to submit some articles to Seeking Alpha for publication consideration.  We will not be covering the same stocks or securities, we will not be commenting on each other's content, and, as required by Seeking Alpha, and appropriately so, I am disclosing this association/relation in my profile bio.
Disclosure: I/we have no stock, option or similar derivative position in any of the companies mentioned, and no plans to initiate any such positions within the next 72 hours. I wrote this article myself, and it expresses my own opinions. I am not receiving compensation for it (other than from Seeking Alpha). I have no business relationship with any company whose stock is mentioned in this article.