Kent State guard Sincere Carry (3) shoots against West Virginia guard Taz Sherman (12) and West Virginia forward Seny N'Diaye (23) during the first half at WVU Coliseum. Mandatory Credit: Ben Queen-USA TODAY Sports
Dec 12, 2021; Morgantown, West Virginia, USA; Kent State Golden Flashes guard Malique Jacobs (2) shoots against West Virginia Mountaineers guard Malik Curry (10) during the first half at WVU Coliseum. Mandatory Credit: Ben Queen-USA TODAY Sports
Dec 12, 2021; Morgantown, West Virginia, USA; Kent State Golden Flashes guard Jalen Sullinger (13) shoots over West Virginia Mountaineers guard Sean McNeil (22) during the first half at WVU Coliseum. Mandatory Credit: Ben Queen-USA TODAY Sports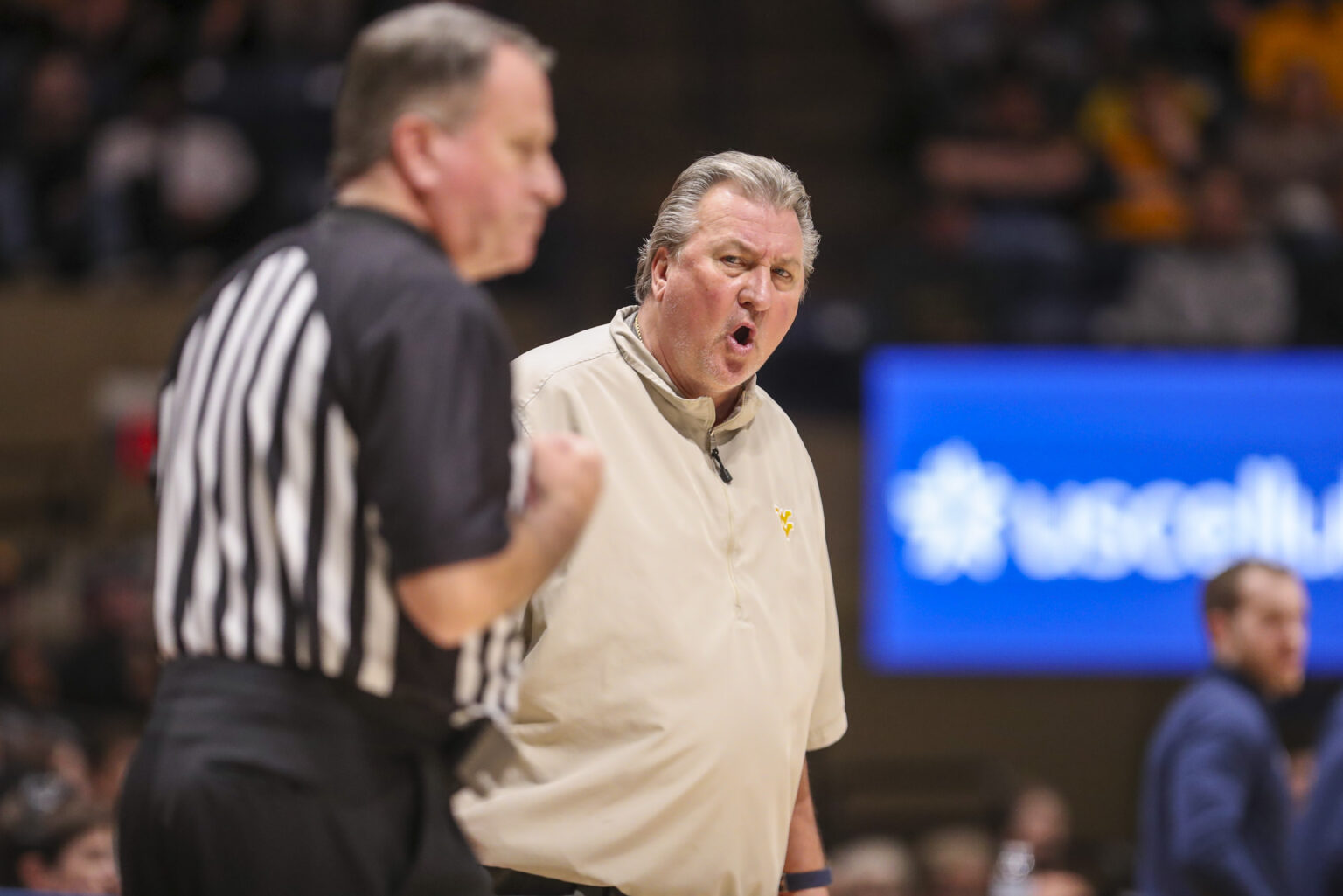 Dec 12, 2021; Morgantown, West Virginia, USA; West Virginia Mountaineers head coach Bob Huggins argues a call during the first half against the Kent State Golden Flashes at WVU Coliseum. Mandatory Credit: Ben Queen-USA TODAY Sports
Dec 12, 2021; Morgantown, West Virginia, USA; West Virginia Mountaineers guard Taz Sherman (12) shoots a three pointer over Kent State Golden Flashes guard Malique Jacobs (2) during the first half at WVU Coliseum. Mandatory Credit: Ben Queen-USA TODAY Sports
Dec 12, 2021; Morgantown, West Virginia, USA; Kent State Golden Flashes guard Malique Jacobs (2) drives against West Virginia Mountaineers guard Sean McNeil (22) during the first half at WVU Coliseum. Mandatory Credit: Ben Queen-USA TODAY Sports
Dec 12, 2021; Morgantown, West Virginia, USA;West Virginia Mountaineers forward Gabe Osabuohien (3) looks to pass while defended by Kent State Golden Flashes forward VonCameron Davis (1) during the first half at WVU Coliseum. Mandatory Credit: Ben Queen-USA TODAY Sports
Dec 12, 2021; Morgantown, West Virginia, USA; Kent State Golden Flashes guard Jeremiah Hernandez (33) shoots a jumper during the first half against the West Virginia Mountaineers at WVU Coliseum. Mandatory Credit: Ben Queen-USA TODAY Sports
Dec 12, 2021; Morgantown, West Virginia, USA; Kent State Golden Flashes head coach Rob Senderoff reacts along the sideline during the first half against the West Virginia Mountaineers at WVU Coliseum. Mandatory Credit: Ben Queen-USA TODAY Sports
Dec 12, 2021; Morgantown, West Virginia, USA; West Virginia Mountaineers forward Jalen Bridges (11) shoots a three pointer during the first half against the West Virginia Mountaineers at WVU Coliseum. Mandatory Credit: Ben Queen-USA TODAY Sports
Dec 12, 2021; Morgantown, West Virginia, USA; West Virginia Mountaineers guard Taz Sherman (12) shoots a three pointer over Kent State Golden Flashes guard Sincere Carry (3) during the first half at WVU Coliseum. Mandatory Credit: Ben Queen-USA TODAY Sports
Dec 12, 2021; Morgantown, West Virginia, USA; Kent State Golden Flashes forward Justyn Hamilton (21) reacts after a dunk during the first half against the West Virginia Mountaineers at WVU Coliseum. Mandatory Credit: Ben Queen-USA TODAY Sports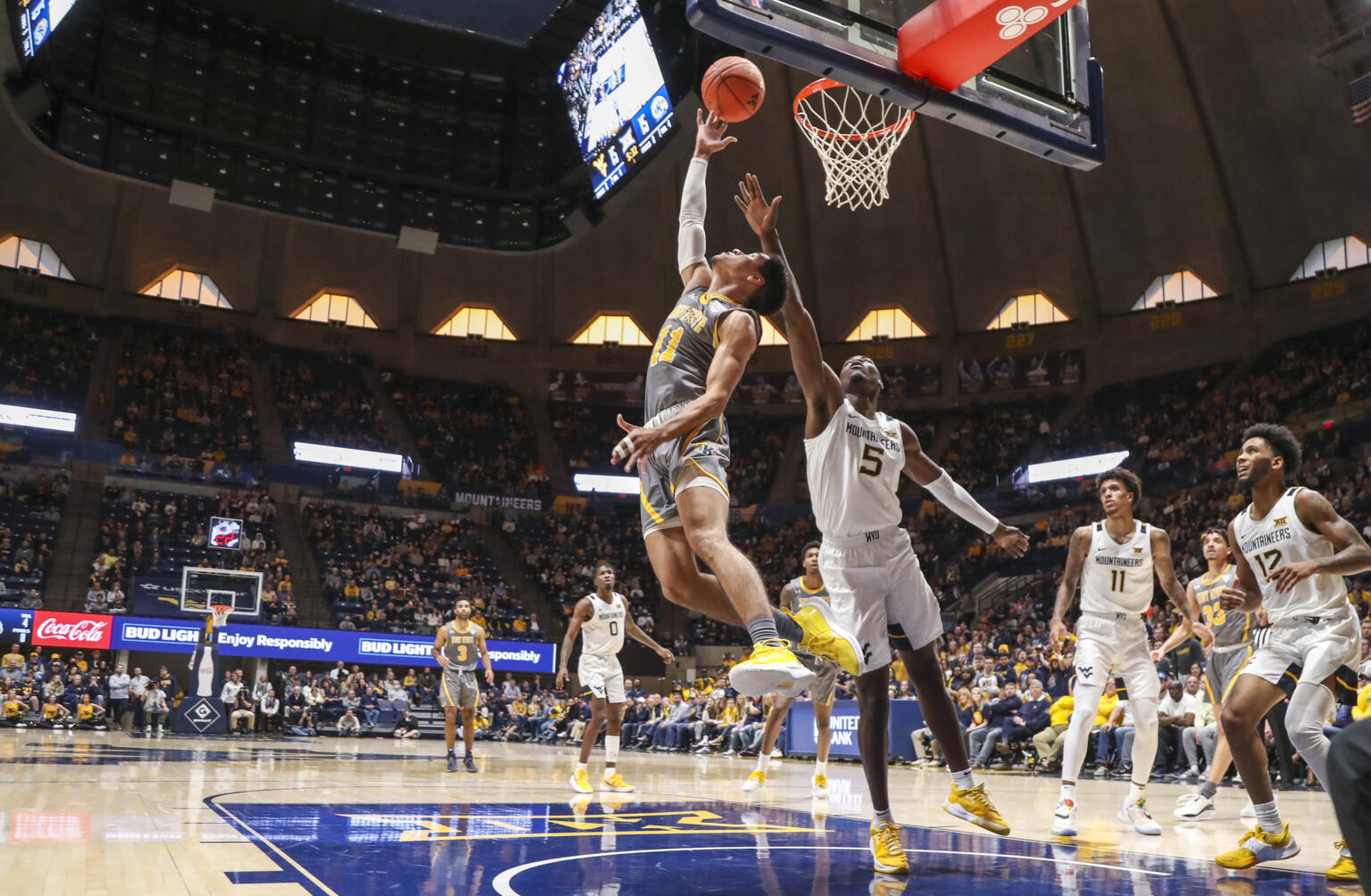 Dec 12, 2021; Morgantown, West Virginia, USA; Kent State Golden Flashes guard Giovanni Santiago (11) shoots under the basket against West Virginia Mountaineers forward Dimon Carrigan (5) during the first half at WVU Coliseum. Mandatory Credit: Ben Queen-USA TODAY Sports
Dec 12, 2021; Morgantown, West Virginia, USA; Kent State Golden Flashes forward Justyn Hamilton (21) shoots over West Virginia Mountaineers forward Isaiah Cottrell (13) during the first half at WVU Coliseum. Mandatory Credit: Ben Queen-USA TODAY Sports
Dec 12, 2021; Morgantown, West Virginia, USA; West Virginia Mountaineers forward Gabe Osabuohien (3) makes a move in the lane against Kent State Golden Flashes forward Justyn Hamilton (21) during the second half at WVU Coliseum. Mandatory Credit: Ben Queen-USA TODAY Sports
Dec 12, 2021; Morgantown, West Virginia, USA; West Virginia Mountaineers guard Taz Sherman (12) drives against Kent State Golden Flashes guard Sincere Carry (3) during the second half at WVU Coliseum. Mandatory Credit: Ben Queen-USA TODAY Sports
Dec 12, 2021; Morgantown, West Virginia, USA; West Virginia Mountaineers forward Isaiah Cottrell (13) defends Kent State Golden Flashes guard Sincere Carry (3) during the second half at WVU Coliseum. Mandatory Credit: Ben Queen-USA TODAY Sports
Dec 12, 2021; Morgantown, West Virginia, USA; West Virginia Mountaineers guard Sean McNeil (22) drives against several Kent State Golden Flashes defenders during the second half at WVU Coliseum. Mandatory Credit: Ben Queen-USA TODAY Sports
Dec 12, 2021; Morgantown, West Virginia, USA; West Virginia Mountaineers forward Isaiah Cottrell (13) shoots a three pointer over Kent State Golden Flashes forward Tervell Beck (14) during the second half at WVU Coliseum. Mandatory Credit: Ben Queen-USA TODAY Sports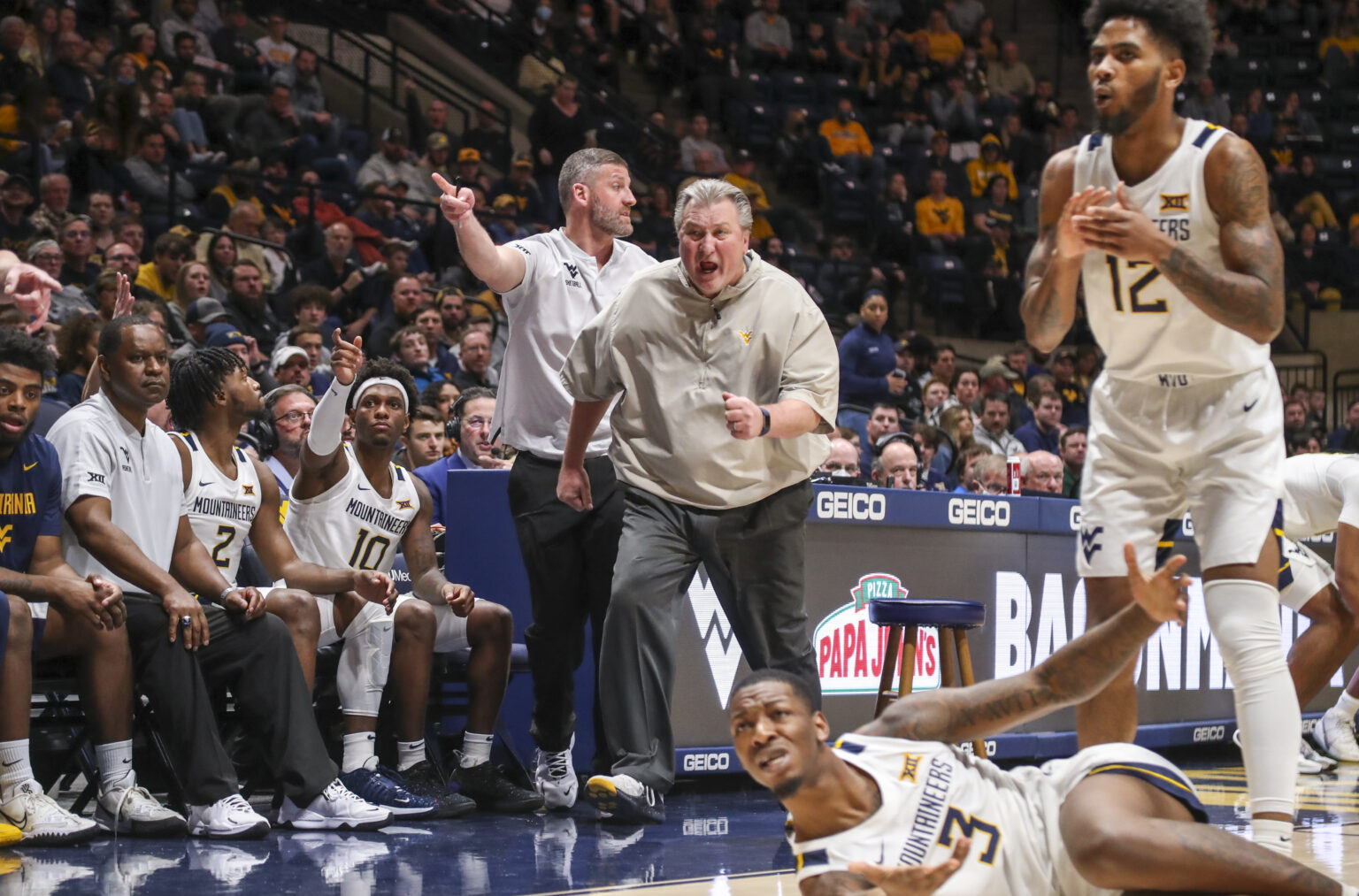 Dec 12, 2021; Morgantown, West Virginia, USA; West Virginia Mountaineers head coach Bob Huggins reacts after a call during the second half against the Kent State Golden Flashes at WVU Coliseum. Mandatory Credit: Ben Queen-USA TODAY Sports
Dec 12, 2021; Morgantown, West Virginia, USA; Kent State Golden Flashes head coach Rob Senderoff receives a double technical foul and is ejected from the game during the second half against the West Virginia Mountaineers at WVU Coliseum. Mandatory Credit: Ben Queen-USA TODAY Sports
Dec 12, 2021; Morgantown, West Virginia, USA; West Virginia Mountaineers forward Pauly Paulicap (1) shoots in the lane during the second half against the Kent State Golden Flashes at WVU Coliseum. Mandatory Credit: Ben Queen-USA TODAY Sports
Dec 12, 2021; Morgantown, West Virginia, USA; West Virginia Mountaineers guard Sean McNeil (22) drives baseline against Kent State Golden Flashes guard Malique Jacobs (2) during the second half at WVU Coliseum. Mandatory Credit: Ben Queen-USA TODAY Sports
Dec 12, 2021; Morgantown, West Virginia, USA; West Virginia Mountaineers forward Dimon Carrigan (5) shoots against Kent State Golden Flashes forward Justyn Hamilton (21) during the second half at WVU Coliseum. Mandatory Credit: Ben Queen-USA TODAY Sports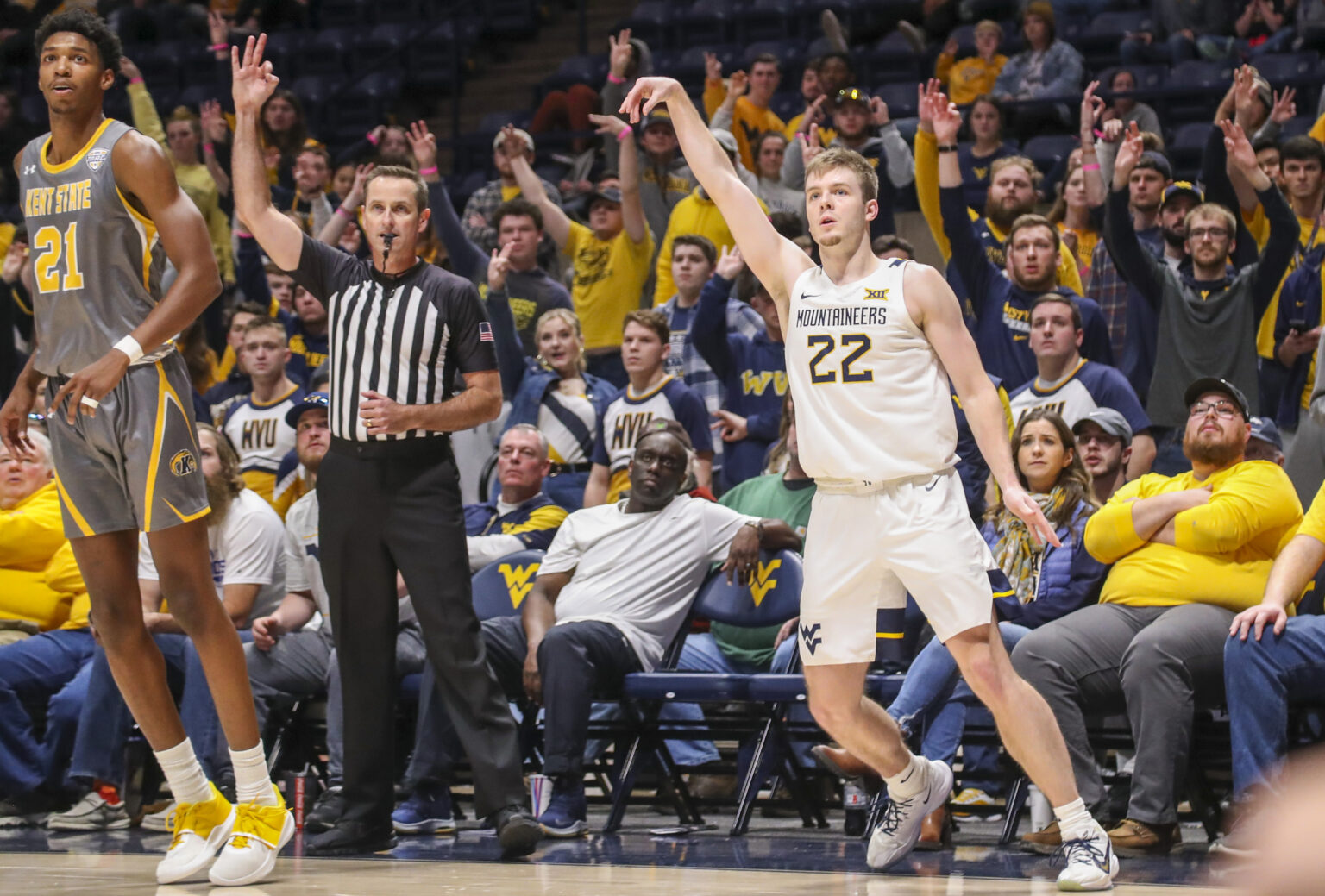 Dec 12, 2021; Morgantown, West Virginia, USA; West Virginia Mountaineers guard Sean McNeil (22) celebrates a made three pointer during the second half against the Kent State Golden Flashes at WVU Coliseum. Mandatory Credit: Ben Queen-USA TODAY Sports
Dec 12, 2021; Morgantown, West Virginia, USA; Kent State Golden Flashes forward Justyn Hamilton (21) and West Virginia Mountaineers forward Gabe Osabuohien (3) fight for a loose ball during the second half at WVU Coliseum. Mandatory Credit: Ben Queen-USA TODAY Sports
Dec 12, 2021; Morgantown, West Virginia, USA; West Virginia Mountaineers guard Sean McNeil (22) shoots in the lane against many Kent State Golden Flashes during the second half at WVU Coliseum. Mandatory Credit: Ben Queen-USA TODAY Sports
Dec 12, 2021; Morgantown, West Virginia, USA; West Virginia Mountaineers guard Taz Sherman (12) shoots a jumper over Kent State Golden Flashes guard Sincere Carry (3) during the second half at WVU Coliseum. Mandatory Credit: Ben Queen-USA TODAY Sports
Dec 12, 2021; Morgantown, West Virginia, USA; West Virginia Mountaineers guard Malik Curry (10) shoots a three pointer during the second half against the Kent State Golden Flashes at WVU Coliseum. Mandatory Credit: Ben Queen-USA TODAY Sports
Dec 12, 2021; Morgantown, West Virginia, USA; West Virginia Mountaineers players celebrate after defeating the Kent State Golden Flashes at WVU Coliseum. Mandatory Credit: Ben Queen-USA TODAY Sports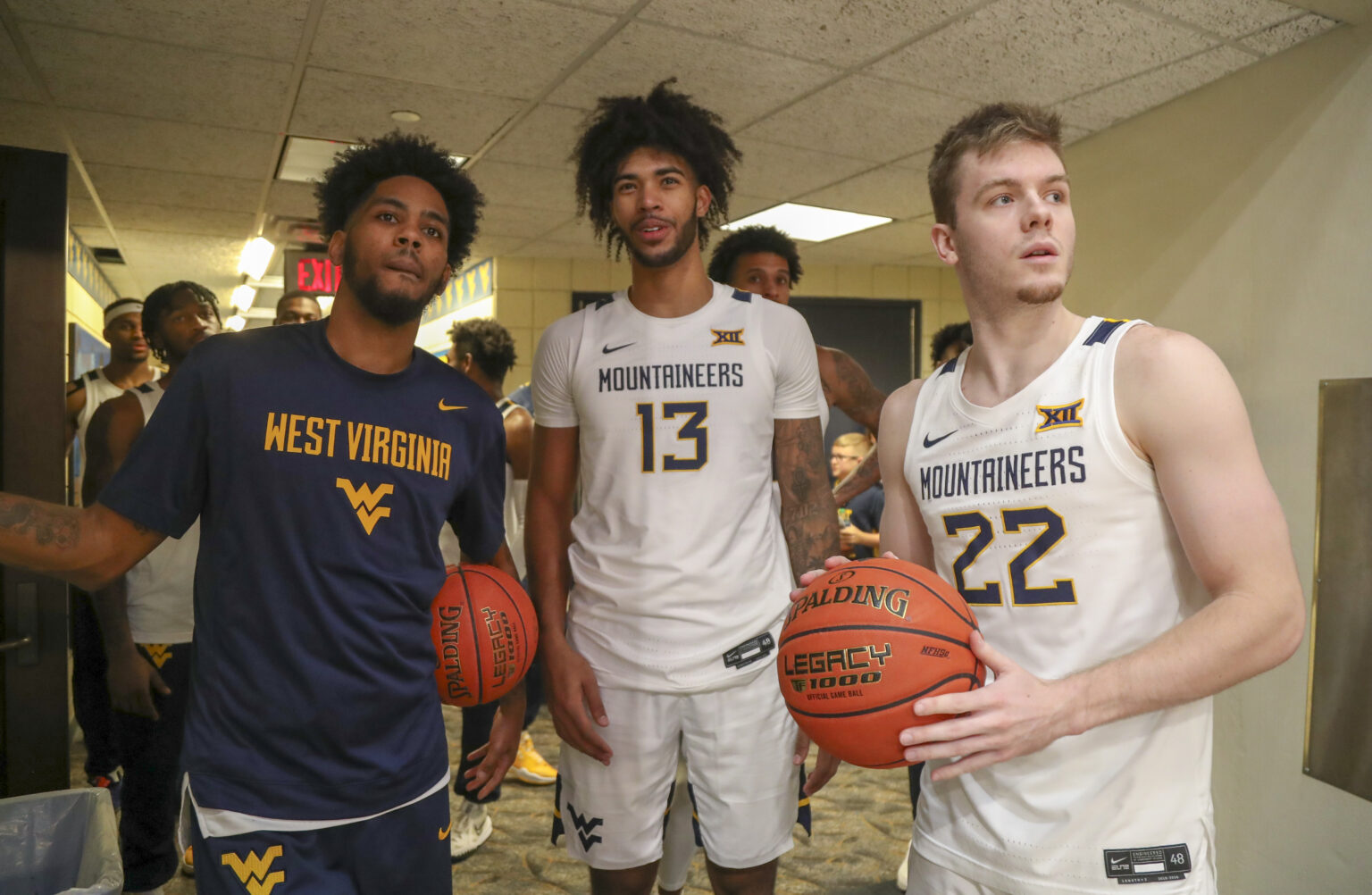 Dec 12, 2021; Morgantown, West Virginia, USA; West Virginia Mountaineers guard Taz Sherman (12) and West Virginia Mountaineers forward Isaiah Cottrell (13) and West Virginia Mountaineers guard Sean McNeil (22) lead their team onto the floor prior to their game against the Kent State Golden Flashes at WVU Coliseum. Mandatory Credit: Ben Queen-USA TODAY Sports
MORGANTOWN, W.Va. — West Virginia's defense continued to wear on Kent State throughout Sunday's game.
In turn, the Mountaineers turned what was largely a sloppy performance for the first 30 minutes into a comfortable 63-50 victory over the Golden Flashes.
The win came before 11,532 at the Coliseum and marked West Virginia's sixth consecutive victory as the Mountaineers improved to 9-1 in their fifth of five straight home games. It followed a 56-53 win over No. 15 Connecticut on Wednesday, though WVU head coach Bob Huggins didn't like much of what he saw.
"They were ready to play Connecticut. They shared the ball and did a lot of good things," Huggins said. "I don't think they gave Kent State the respect they deserve. That's a good team and they were more ready to play than we were. There's no doubt."
WVU rattled off 14 unanswered points in a span of 4:47 to turn a three-point lead into a 54-37 advantage with 5:55 remaining.
Taz Sherman, who led all players with 27 points, began the decisive run with a second-chance jumper to up the Mountaineers' lead to 42-37. Dimon Carrigan followed with consecutive buckets from close range, the second of which was made easier by Sherman's highlight-worthy assist.
"When you're on defense and getting constant stops, it's a different energy," Sherman said. "When you can stop other good scorers from scoring consistently, that's a different one. We do that a lot and people go through stretches of three, five and seven minutes without scoring. It shows how locked in we are on defense."
After Malik Curry turned a steal into a transition layup to give Huggins' team an 11-point advantage, Kent State head coach Rob Senderoff called a timeout with 8:18 remaining.
Senderoff wasn't around much longer as he was ejected after receiving two technical fouls within seconds on the possession out of the timeout. Senderoff expressed frustration over Mountaineer forward Gabe Osabuohien not being whistled for a foul during a sequence that ended with Justyn Hamilton's turnover.
Senderoff's ejection sent Sean McNeil to the free-throw line, and although West Virginia again struggled in that department, McNeil made all four of his attempts with 7:54 left to stretch the lead to 52-37. McNeil's second-chance basket gave WVU its biggest lead of the game at 17 points with 5:55 to play.
"It took us a while to get going, but in the second half we stretched it out to seventeen and getting stops consecutively is always good," McNeil said.
The Golden Flashes (5-4) broke a near 7-minute drought when Malique Jacobs scored on a drive with 4:57 remaining, but the outcome had all but been decided at that point.
Kent State shot less than 35 percent, making 19-of-55 field-goal attempts, including 4-of-18 3-pointers.
"We've done a pretty good job defensively the last couple games," Huggins said. "We're staying in front of people. We're spending more time with individual defense to guard the ball."
Outside of guard Sincere Carry, who led KSU with 18 points on 7-of-15 shooting, the Golden Flashes combined to make 12-of-40 shots.
But Kent State was squarely in the game throughout the first half, which was played within four points.
WVU's biggest lead through the opening 20 minutes was 6-2, while the Golden Flashes' largest advantage was 2 points on five separate occasions.
Sherman's triple broke a 19-all tie, and WVU took a 25-22 lead into halftime after McNeil made a jumper with 12 seconds left.
Sherman (12 points) and McNeil (10) had eight of WVU's nine field goals and all but three of the team's points at the intermission. But that duo also combined to make only 3-of-8 free throws through 20 minutes, while WVU went to the locker room having made 4-of-12 tries from the charity stripe.
"Since we got the practice facility, they're supposed to make 100 [free throws] before they leave," Huggins said. "Obviously, we've had guys sneaking out. I don't think it's mental. They just don't put the time in that we have in the past. You have managers counting them, but [the players] can finesse the managers into writing down things that aren't true."
The Mountaineers initially created separation in the second half when Isaiah Cottrell connected on a triple and Sherman put a jumper through to turn a four-point game into a 40-31 lead with 14:14 left.
Carry and Jacobs combined to score the next six points and brought the Golden Flashes to within three with 11:47 remaining, before their extended scoring drought allowed WVU to open up its 17-point advantage.
Sherman made 9-of-14 field-goal attempts and 7-of-13 free throws to post a game-high scoring mark for the eighth time in West Virginia's 10 contests, but the senior guard wasn't pleased with his performance.
"Missing six out of thirteen [free throws] is terrible," Sherman said. "This is a bad performance by me. Not really a fan of how I played today. The stats may show otherwise, but I didn't like how I played today."
McNeil added 19 points on 6-of-11 shooting.
No other player scored more than four points for WVU, which finished 13 of 24 on free throws.
Jalen Bridges had a team-high six rebounds in the win, while reserve Pauly Paulicap continued to provide a spark off the bench and had five boards and a pair of blocks, including one that prevented a transition layup.
Hamilton's 10 points gave KSU a second double-figure scorer. He also led all players with 12 rebounds, though WVU won the battle of the boards, 38-31.
Six different Mountaineers had multiple turnovers on a day Huggins' team finished with 16 turnovers.
"We didn't have energy," Huggins said. "We didn't pass the ball. I thought we were starting to pass the ball and share the ball and today we were right back where we were in Charleston. Not taking care of the ball and forcing things. We don't run offense. We just do not run offense."