Adding to an already interesting day for Shiba Inu (CCC:SHIB-USD), the SHIB crypto is now available for trading on Bitso. Indeed, Mexico's largest crypto exchange has added the meme-token favorite to its platform. Today, Shiba Inu fans appear pleased by the news as the asset enjoys modest gains so far.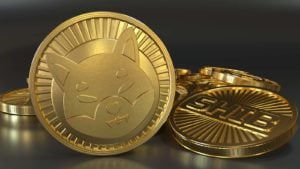 Source: Shutterstock
Shiba Inu's addition marks the 16th crypto added to the Mexican exchange. If you recall, Bitso became the country's first crypto platform in May 2021, after several successful rounds of funding. Just this month, Bitso entered into a three-year partnership agreement with Brazilian soccer club, Sao Paulo FC.
This is the latest in a string of recent listings for SHIB. In early December, Mercado Bitcoin, Brazil's largest crypto platform, listed SHIB. Additionally, on Tuesday, the Indian crypto exchange Giottus added it to its list of accepted cryptos.
SHIB clearly isn't resting on its laurels as it continues to expand its userbase and accessibility.
The SHIB Crypto Sees Gains From Recent Listings
Shiba Inu's recent listings have resonated well with fans of the pupcoin. SHIB is up more than 3% today, despite its recent Twitter (NYSE:TWTR) conflict with price reference giant CoinMarketCap.
Interestingly, many of the coin's recent listings come without its meme-coin sibling, Dogecoin (CCC:DOGE-USD). DOGE is notably absent from both the Bitso and Giottus exchanges as quickly rising meme star SHIB steals the show.
And it doesn't even stop there. Bitstamp, one of Europes's largest crypto exchanges, plans on listing SHIB in Q1 of this year. Therefore, Shiba Inu fans are rejoicing today as the token enjoys short-term gains from its recent and upcoming expansions.
On the date of publication, Shrey Dua did not hold (either directly or indirectly) any positions in the securities mentioned in this article. The opinions expressed in this article are those of the writer, subject to the InvestorPlace.com Publishing Guidelines.