When COVID-19 shutdowns began impacting the Eastern Upper Peninsula Intermediate School District (EUPISD), staff found the proverbial silver lining and leveraged it to create opportunities that will benefit their community long after the pandemic has passed.
EUPISD serves Mackinac, Chippewa, and Luce counties, and regional tribal communities in collaboration with 19 constituent school districts spread over 4,000 square miles that include four Island communities and 7,000 students.
They spearheaded numerous initiatives through the Life Sustaining Physical Activity and Nutrition, or LifeSPAN, program, which gives families the tools to lead all-around healthier lives.
"My team has a lot of personal experience tied to the community," says Paula Finfrock, who serves as project director for LifeSPAN. "That makes us even more passionate about what we do because we are connected and able to relate with our community."
As part of the program, nutrition instructors work with classroom teachers to introduce preschoolers to fruits and vegetables using Grow It, Try It, Like It, a garden-themed nutrition curriculum. The instructors also inspire kindergarten through sixth grade students to eat healthy and be active using the Cooking with Kids curriculum. The overall goal of both of these curricula is to get kids and their families to eat more fruits and vegetables and become more physically active.
LifeSPAN is made possible through Michigan Fitness Foundation (MFF) Supplemental Nutrition Assistance Program Education (SNAP-Ed) funding. MFF is a State Implementing Agency of the Michigan Department of Health and Human Services for the education component of the Supplemental Nutrition Assistance Program. SNAP-Ed is an education program of the U.S. Department of Agriculture that teaches people eligible for SNAP how to live healthier lives. MFF offers grants to conduct SNAP-Ed programming throughout the state of Michigan.
"Our SNAP-Ed nutrition programming is focused on food access, eating more seasonal fruits and vegetables, promoting active lifestyles, and how to make healthier choices," explains Finfrock.
When COVID-19 closed schools to EUPISD's SNAP-Ed nutrition instructors, they quickly shifted and found ways to support learning using MFF SNAP-Ed programs by delivering lessons in the new virtual environment. They created videos for MFF's Online Learning in a SNAP YouTube channel with nutrition instructors providing nutrition lessons and physical activity promotion and guided readings. Using Health Through Literacy™ children's books, they created video read-alouds to teach children about the importance of eating fruits and vegetables. By recording FitBits™ physical activity breaks, they were able to get kids moving at home in their virtual classrooms. To inspire healthy eating, they recorded recipe demonstrations using Michigan Harvest of the Month™ recipes. By making the time to produce video programming, they were better able to deliver their lessons in the new virtual environment and use the videos in future programming.
An EUPISD preschool facilitator demonstrates a FitBits(TM) physical activity, using a greenscreen."The kids liked the idea of having something to change up their day," Finfrock says. "We are going to continue providing the option for our schools to have virtual direct education. We obviously want to be in the classroom, but we have learned to be more flexible and to go with what the schools need. Also, we find by going virtual, we can have a larger audience and are able to help more people."
To reach more community members, they expanded and embarked on delivering their programming through social media and email.
"We always wanted to do a lot more virtual education, even before the pandemic. It's a lot easier up here to do surveys and everything virtually," Finfrock says. "Now that the pandemic has created a shift to teach from a virtual environment, we are reaching people a lot easier because our priority audience are big users of social media and email."
Getting active
The EUPISD LifeSPAN team also collaborates with local partners and community coalitions to increase food access and provide no-cost/low-cost physical activity opportunities. The broader goal is to create sustainable change that supports healthy behaviors through their SNAP-Ed policies, systems, and environmental change (PSE) work across the Eastern Upper Peninsula.
"We've found that physical activity was brought more to the forefront of need within our community," Finfrock says. "Because students and community members weren't able to go to the gym or attend school, physical activity decreased a lot for everybody. What we did was focus on ways to get people more physically active by encouraging physical activity through social media posts and by offering various free or low-cost options for families to be active."
In order to motivate folks to get outside and get moving, the EUPISD LifeSPAN team looked for opportunities to connect the students they work with and their families to the local trail systems.  

A young participant enjoys a scavenger hunt on Lynn Trail.
"After seeing the success of a holiday-themed scavenger hunt, we got in touch to work with the parks and rec department and the local business community to plan a week-long Horseshoe Scavenger Hunt on the area trails," shares Finfrock. "They were great. We all came together and had such a great turnout. During that week while it was happening, we noticed it was gaining traction on social media. More of our families indicated they wanted to participate, so we decided to extend the event for the entire month, and it was a huge success."
Because the event received so much positive feedback, they are working on plans to continue hosting seasonal scavenger hunts. They are also looking at ways to partner with like-minded organizations in the area to expand the event across the regional trail system.
 
"Living in the Upper Peninsula, there are a lot of outdoor physical activity opportunities right around the corner. However, we learned that not a lot of people are using them," Finfrock says. "We also found that, even though we are in the community where these trails and outdoor opportunities are abundant, people didn't really know where they were located. So, through our events, we are working on letting them know about our outdoor amenities."
By using the local trails and developing relationships with area organizations and businesses, they were able to introduce safe spaces where students and their families could connect and be active in the community. Especially important was ensuring events were held outside due to the pandemic. From this, they have created new community traditions that will be easy to carry on post-pandemic. Through EUPISD LifeSPAN's PSE work, they are inspiring active living that creates a culture of health across the region.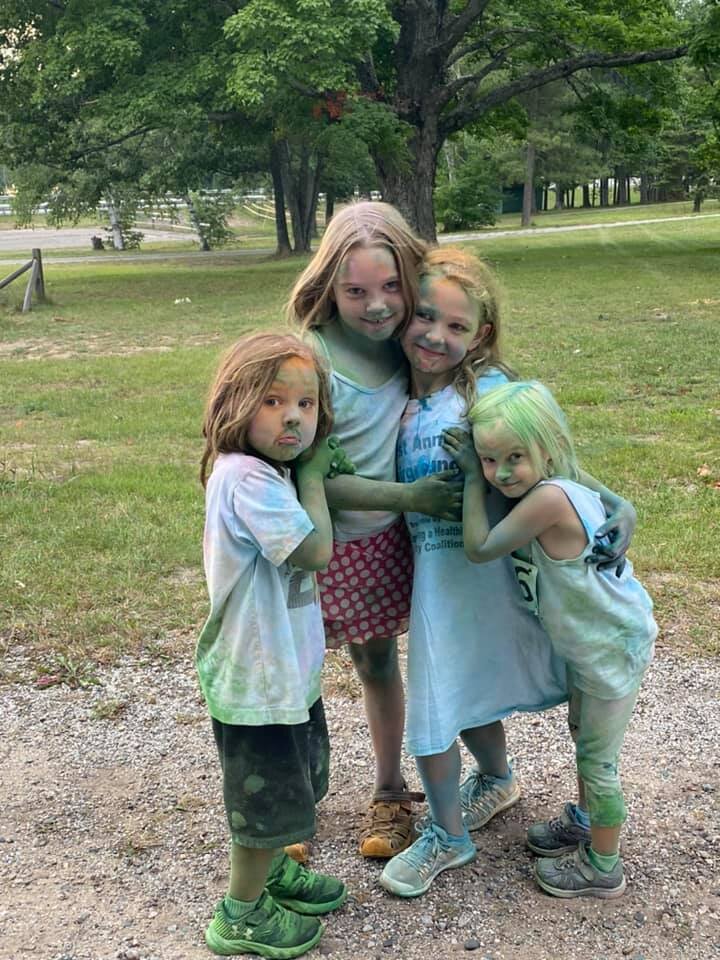 Participants in the Kinross Color Run.
The EUPISD LifeSPAN team also collaborated with the Kinross Township Board, Kinross Parks and Recreation, Sault Ste Marie Tribe of Chippewa Indians Community Health, and the Building Healthy Communities Coalition to promote walking and running by creating a 2K/5K Color Run/Walk last August.
"The run was really cool. We worked with a few of the tribes to help us implement, fund, and promote it to our priority audience in the region," explains Finfrock. "The Sault Tribe's Health Education Services covered the registration fees for tribal members, and proceeds from the run/walk supported improvements to the Kinross Rec Center Gymnasium, which is a free community space where families can be active."
Like the scavenger hunt, the run/walk was also successful and will continue. By developing a local route, they made it easier for the students and families they serve to come together, be active, and become more comfortable using the resources any time, not just during an event.
As the EUPISD LifeSPAN team works to develop partnerships in the region, their PSE work progresses.
"It's about building relationships and taking the time to really listen to one another to effect meaningful change," says Finfrock. "Here, we have to take the time to open up and talk. It is a part of our culture to connect and have conversations with our elders, children, and community members. Being from here matters too. We aren't outsiders coming in. This means people are more apt to open up and have real conversations about what is going on where the families we serve live, eat, work, play, pray, and shop."
By taking the time to have deep conversations, they have found they are better able to serve the community. In addition to being connected physically as local or regional neighbors, the EUPISD LifeSPAN team is connected culturally. From this work, they are able to build trust, learn more, and are better suited to find ways to break old cycles and inspire healthy living that will resonate.
Fresh Food Initiative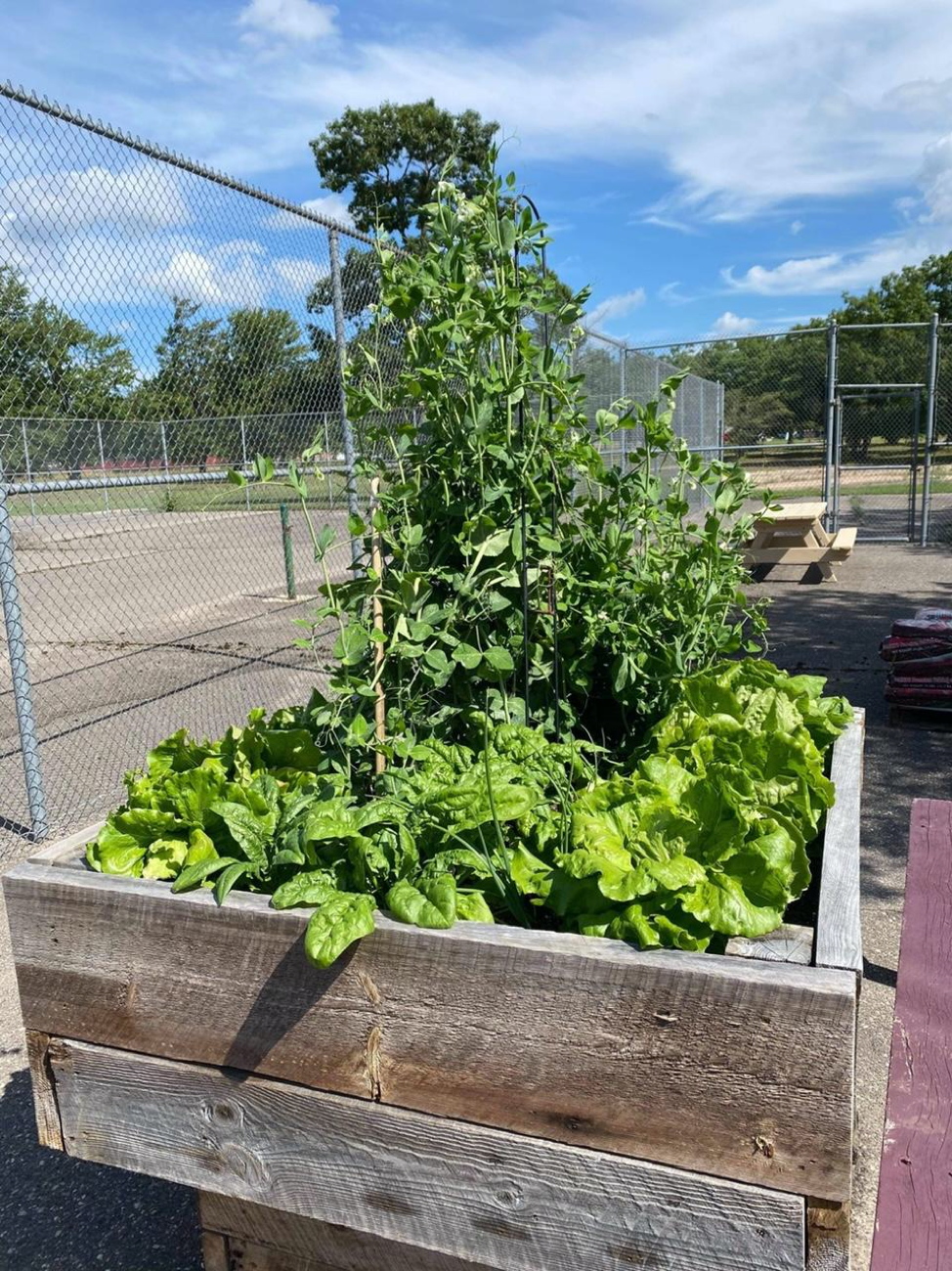 Youth gardens at the Kinross Rec Center.In addition to physical activity promotion, the EUPISD LifeSPAN team developed ways to deliver the MyGarden™ curriculum at the Kinross Rec Center. The Sault Tribe and Kinross Building Healthy Communities Coalition expressed they had plans to build an intergenerational garden as a part of their tribal food sovereignty initiative for the large community of tribal members living in the area. Because MyGarden™ is a garden-based curriculum, they decided to combine efforts. First, they needed to establish a garden space so they could teach gardening skills and healthy eating. Then, they wanted to add the nutrition education component once the gardens were established. With lumber donated from the local fairgrounds, they built raised garden beds for the youth garden at the Kinross Recreation Center.
"The kids really got involved in the whole process, and when the food was ready to harvest, they were able to use it for snacks and take the extra fresh produce home to their families," shares Finfrock. "To expand on the gardens, more raised garden beds were built at the local campground where our tribal members gather regularly to create community, and at the nearby DeMawating affordable housing development on the former Kincheloe Air Force Base where a lot of our tribal families live."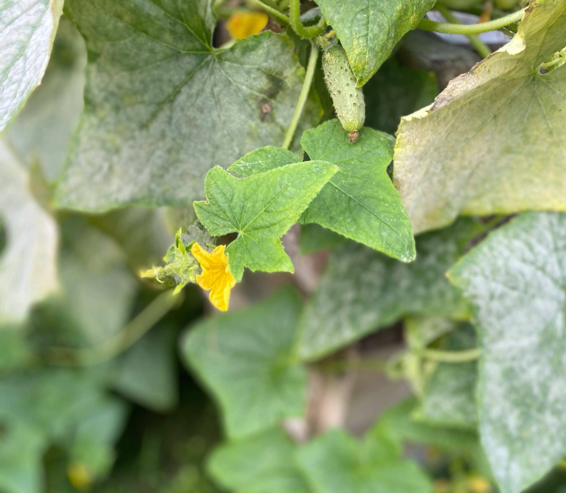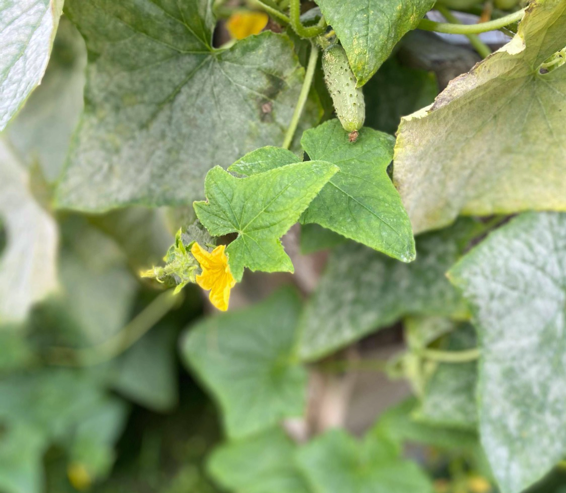 Youth gardens at the Kinross Rec Center. 
Now that the gardens are established, the EUPISD LifeSPAN team will bring in nutrition education using the MyGarden™ curriculum to carry the program further through educational initiatives next season.
The EUPISD LifeSPAN team also provides nutrition education to families on tight budgets at the Bay Mills Farmers Market in Brimley. But it took the market a little time to be able to provide space for the program.
"When the market changed ownership, it lost the ability to accept SNAP. It took two years to be able to get it back," explains Finfrock. "There was some red tape at the federal level, but by this last October, families were finally able to use their Bridge Card at the market to purchase fresh, locally grown fruits and vegetables."
In the tri-county area, the Bay Mills Farmers Market is the only farmers market that accepts SNAP. As a support, EUPISD LifeSPAN team produced a video to post on social media that explains how to use SNAP at the farmers market, which was well received.
"We work hard to reduce the stigma around using SNAP and make it a seamless experience for shoppers. Information is power. People didn't know now to use the card and were really nervous. With our video, we helped to alleviate their fear," says Finfrock.
The EUPISD LifeSPAN team also uses MFF's Farmers Market Food Navigator program at the farmers market to help shoppers effectively use their food dollars. By providing recipes, health-related educational activities, and nutrition reinforcing items at the market that coordinate with MFF's Michigan Harvest of the Month™ program, families can explore, taste, and learn about the importance of eating a variety of fruits and vegetables.
The Food Navigators also keep in mind how to serve their community by understanding and forging relationships between the market vendors and shoppers. For example, Food Navigators will walk shoppers through the market on a tour.
"By getting to know the market vendors, they have created mutual respect and support for each other while creating a bridge for the shoppers to experience the vegetables and fruits that vendors bring to market," explains Finfrock. "Because the vendors and shoppers come from a variety of backgrounds from Amish, Anishinaabe, Jamaican, and Mennonite to local community members, our Food Navigators also seek to understand the cultures of all they serve to achieve success."
Food Navigators take time to stop and communicate with the market vendors. Rather than using a general harvest chart, Food Navigators seek to understand what produce is up next on the local market vendors' harvest calendar. They base their featured produce, Michigan Harvest of the Month™ recipes, and food tastings accordingly.
"What I like best about our PSE work is doing things that have a huge impact on people's lives. We can see it as our work evolves because we know these people," Finfrock says. "I'm Ojibwe, so I'm able to relate to our tribal community. Our SNAP-Ed work has more meaning because we are not just working. We are actually trying to help families and people we know, the kids who our kids go to school with, so we can all live healthier lives."