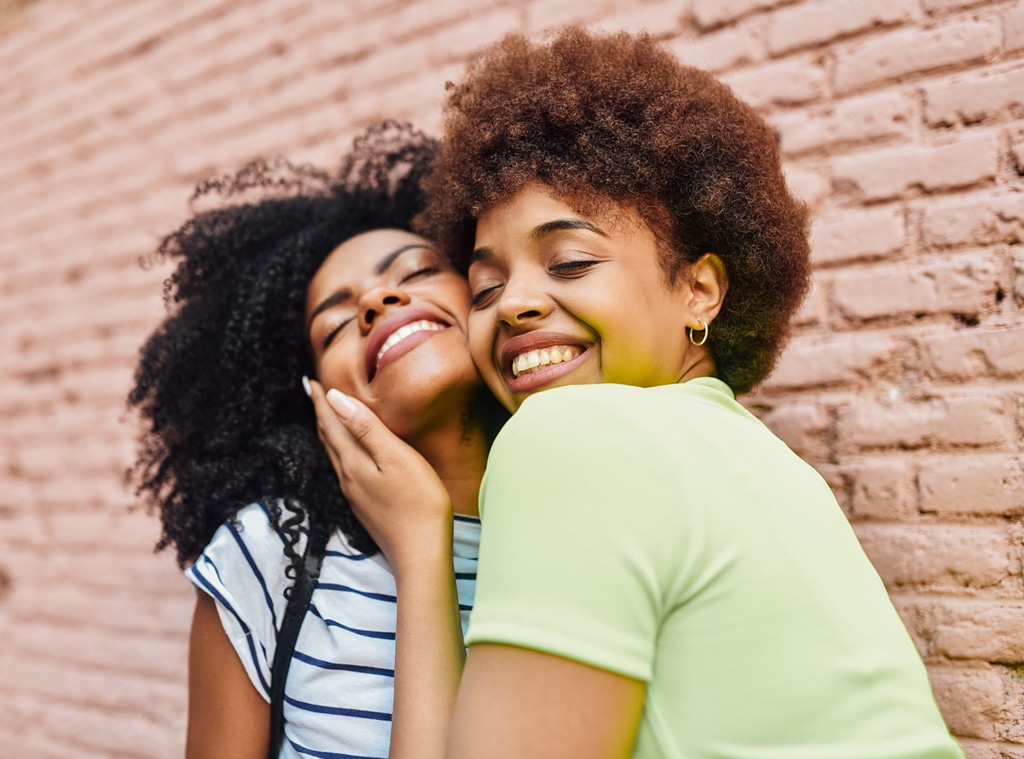 Getty Images
We independently selected these deals and products because we love them, and we think you might like them too. E! has affiliate relationships, so we may get a commission if you purchase something through our links. Items are sold by the retailer, not E!. Prices are accurate as of publish time.
Galentine's Day is right around the corner. If you don't know what to gift your BFF this year, why not turn to the stars for help? We talked to Ryan Marquardt, professional astrologer with The Soul Unity to get some gift ideas for each zodiac sign. 
While many of us use astrology to get some insight into the future, it's also a helpful tool for learning more about the people you love. Every zodiac sign has their own set of personality traits that make them truly special. Certain colors, gemstones, and metals also go with each sign. So if you don't know what to get someone in your life, their zodiac sign can clue you in. 
From luxe bath bombs that will help the always on-the-go Aries unwind to an instant camera that will capture special moments for the dreamy Pisces, Ryan shared the types of gifts each zodiac sign would appreciate. We also rounded up some specific ideas to point you in the right direction. Check those out below. 
Aries
Nobody likes to be stressed out, but Aries actually evolves through stressful situations. Aries women are naturally inclined to find themselves under pressure in their daily lives, so gifts that relieve tension are always helpful. Luxurious bath bomb sets or meditation cushions might be a good idea to help them unwind. Aries also rules the head, so a scalp massager might also be useful.
Color(s): Red
Gemstone: Diamond
Metal: Iron
Ruling planet: Mars
Miss Patisserie Geode Bath Ball
These luxe geode bath bombs from Miss Patisserie will appeal to the fiery ram in your life. Each ball has a fresh citrus scent and was made with mineral-rich salts and cocoa butter. It's just the thing they need to unwind after a long day.
Taurus
It's true that Taurus loves food and hates being in a rush, but that doesn't mean they want to spend hours every day cooking extravagant meals for themselves. Try something that eases the process of cooking and gives them more time back, like an air fryer. Taurus also appreciates handcrafted gifts like custom jewelry made by you or their favorite designer.
Color(s): Pastels including pink, blue and green
Gemstone: Emerald
Metal: Copper
Ruling planet: Venus
Bella 2-Quart Electric Air Fryer
This super cute pink air fryer from Bella will make an excellent addition to your Taurus' kitchen. It's easy to use, highly versatile and is perfectly sized for apartments or smaller kitchens. 
Gemini
Gemini is symbolized by the twins, so gifts that come in pairs or two parts could be a nice way to recognize this zodiac sign. Lean into Gemini's sense of humor by finding funny socks or slippers that speak to their personality. Gemini also loves a good subscription box, because they come with multiple items and it's a gift that repeats itself month over month, satisfying Gemini's eclectic tastes.
Color(s): Yellow
Gemstone: Agate
Metal: Mercury
Ruling planet: Mercury
FabFitFun Box
As Ryan said, a subscription box makes a really great for your lovable air sign friend and there's no better subscription box than FabFitFun. This spring's box includes over $275 worth of products from brands like Kate Spade, Fenty Beauty, Erin Condren and Ban.do. It's an amazing value and you get full-size products. So good!
Cancer
Cancer is fond of nostalgia. You can never go wrong with a one-of-a-kind antique or heirloom. Collectables are also a great way to show a Cancer you care, since most collectables have a great backstory and grow in value over time. Brands with a strong sense of history work best when it comes to gifting a Cancer.
Color(s): Silver, Gray, Blue-Gray
Gemstone: Pearl
Metal: Silver
Ruling planet: Moon
Sperry Women's Torrent Chelsea Rain Boot
If anyone needs a good pair of waterproof boots, it's Cancer. The zodiac's sweet, sensitive crab, loves being around water. It's calming, soothing and totally rejuvenating. Gifting them a pair of shoes from an iconic brand like Sperry, who has a "strong sense of history" and specializes in items made for being around water, is just the thing for them. Their super popular Torrent Chelsea rain boots are stylish, functional and perfect for those rainy spring days. These come in black, grey and olive. 
Leo
Leo has a close affinity with the Sun, and none of us would be alive without the Sun's presence in our solar system. The ultimate goal in gifting a Leo is to find something that makes them say, "I don't know how I ever lived without this!" Try a cute alarm clock with circadian lighting to give them the feeling of waking up with the sun. Or, help Leo step up their selfie game with an accessory they can use over and over again, like a good quality ring light.
Color(s): Orange, and hues inspired by sunrise and sunset
Gemstone: Ruby
Metal: Gold
Ruling planet: Sun
Brilliant Ideas Heart-Shaped Vlogging Ring Light
The zodiac's regal lion will truly appreciate this unique heart-shaped vlogging ring light from Brilliant Ideas. It features several brightness levels and color temperatures, as well as a holder for your phone. 
Virgo
Virgo can be riddled with anxiety because they always strive to be better than they were the day before. Guided journals, adult coloring books, weighted blankets and aromatherapy are all great ways to show Virgo you care about their wellbeing. Virgo also appreciates anything that contributes to a greater good, so try finding a product or brand that has an impeccable give-back program. You can even make a donation to their favorite charity in their name.
Color(s): Greens and dark brown
Gemstone: Sapphire
Metal: Mercury
Ruling planet: Mercury
Sharper Image Aromatherapy Neck & Shoulder Plush Wrap
This plush aromatherapy neck and shoulder wrap from Sharper Image is just the thing Virgo needs to relax after a stressful work day. It comes in five colors including black, pink, navy and gray. It can also be used hot or cold, depending on their needs. This has over 2,000 five-star reviews on Amazon, and shoppers say it's ultra-soft and works really well. 
Libra
Libra geeks out for a good scent, and they always recognize the value of a higher-end product. It's a gamble buying perfume for someone else unless you know their favorite kind, so try picking up a luxe perfume set that has a variety of different scents. Libra also enjoys getting to know other people better, so icebreaker games are always a good choice, like the We're Not Really Strangers card game. Also, Libra rules the lumbar region, and many Libras require frequent back massages. Heated massagers or even a high-quality posture corrector can be super useful.
Color(s): Shades of pink and blue
Gemstone: Opal
Metal: Copper
Ruling planet: Venus
Jo Malone London Cologne Discovery Set
Jo Malone perfumes are the ultimate luxury, and this cologne discovery set comes with five of their best-selling scents in trial sizes. They can use these alone or mix them together to create a scent that's totally their own. Venus-ruled Libras love anything that's pretty, feminine and luxurious, and this set is just that. 
Scorpio
Scorpio plays it cool when receiving gifts, but they'll light up if they feel like you put a lot of thought into their gift. They love a good surprise, but only when it comes from the heart. Friendship gifts like matching rings, bracelets or necklaces show you're committed to having them in your life. Scorpio doesn't shy away from sexuality, yet they don't overtly flaunt it either, so saucy undergarments are a home run gift as well. Try a chic mesh bra or corset, or a silky smooth slip they can wear under a dress.
Color(s): Scarlet red and black
Gemstone: Topaz
Metal: Plutonium
Ruling planet: Mars and Pluto
Free People Night Rhythm Corset Bodysuit
As if Scorpios weren't attractive enough with their mysterious intensity and allure, this corset bodysuit from Free People will take it to the next level. It's sexy without being too much, and features a mesh bodice and hook-and-eye front closures. You can get this in multiple colors including red, black and green. 
Sagittarius
Yes, Sagittarius is the traveler of the zodiac, but if they get one more neck-pillow for the airplane they'll probably friend-dump you. Instead of weighing them down with more to carry on their trips, give them something to look forward to at home. Elaborate scrapbook materials to help them archive their adventures can be thoughtful and fun. Sagittarius also embraces their element fire wholeheartedly, so play that up however you want, whether you get them exotic candles, a s'mores kit, fondue set, or even a portable fire pit for their backyard.
Color(s): Purple and dark blue
Gemstone: Turquoise
Metal: Tin
Ruling planet: Jupiter
Colsen Tabletop Fire Pot
The zodiac's fiery archer loves entertaining, so this tabletop fire pot would be such a fun addition to their home. It can be used to make s'mores and it also makes a great decorative piece. 
Capricorn
Capricorn spends enough time thinking about work, and while they love gifts for the office, it's probably not the best option for Galentine's Day. Instead of cubicle decor, lean into Capricorn's competitive side by gifting them a vintage board game that relies on strategy, or find something to help them track their daily goals like an Apple Watch or Fitbit.
Color(s): Dark green, charcoal, black
Gemstone: Garnet
Metal: Lead
Ruling planet: Saturn
WS Game Company Monopoly and Scrabble Indigo Bookshelf Game Collection
Capricorns are known for being the CEOs of the zodiac, so a game of Monopoly makes a lot of sense. Unlike regular Monopoly boards, this one comes in a sleek book packaging that can fit perfectly on their bookshelf. Best part is, it also comes with a game of Scrabble. 
Aquarius
Aquarius is the early adopter of the Zodiac. They're always on the leading edge when it comes to technology and trends. Snag the latest voice assistant – not an Alexa, because everyone has that already. Fashion infused with technology can be up their alley, like heated pants or programmable LED shirts. Obscure gadgets are a surefire way to make them smile, like a 3D printer if you've got the budget. You can also find a way to help them invest in the latest crypto trend: the metaverse. Sign up for a metaverse platform and buy up some digital real estate for them.
Color(s): Electric blue, turquoise and violet
Gemstone: Amethyst
Metal: Uranium
Ruling planet: Saturn and Uranus
Ororo Women's Slim Fit Heated Jacket with Battery Pack and Detachable Hood
When it comes to Aquarius, you need to get a gift that's just as one of a kind as they are. According to Ryan, fashion combined with tech is right up their alley so this stylish heated jacket from Amazon is just the kind of thing that would really appeal to them. It has over 4,200 five-star reviews and many say it heats up fast and keeps them nice and toasty. It comes in black and purple, both of which are excellent colors for the water bearer. 
Pisces
Pisces knows how to capture a moment. Opt for a polaroid camera so they can remember their favorite people and events in a single flash. Pisces also embodies the effortless feeling of old school Hollywood glam, so a vintage designer garment always speaks to their soul, whether it's a dress, headscarf or cozy jacket.
Color(s): Seafoam green, light oceanic hues, holographics
Gemstone: Aquamarine
Metal: Platinum
Ruling planet: Jupiter and Neptune
Fujifilm SQ1 Instax Square Camera
Pisces will love getting this pretty light blue Instax Square camera from Fujifilm. They're very creative and will have a lot of fun snapping photos and putting together a wall collage of all their favorite moments.