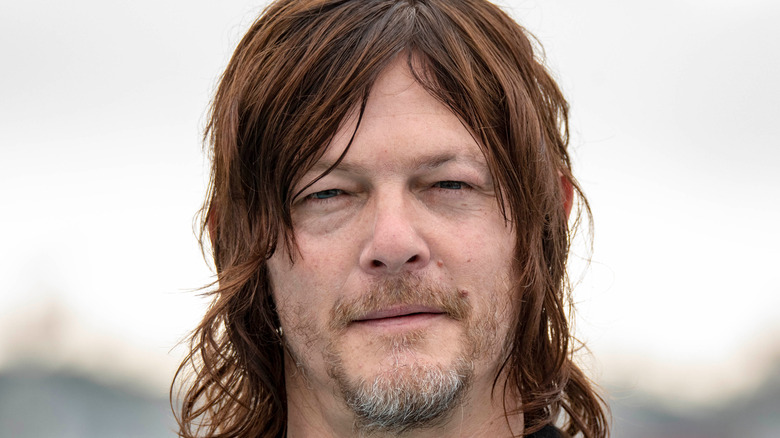 Eugene Powers/Shutterstock
After spending 12 years making crossbows cool again (as well as leading a planned spin-off), Norman Reedus has certified himself as one of TV's most formidable heroes thanks to his turn as Daryl Dixon in "The Walking Dead." Debuting as the outsider who eventually becomes one of the go-to members of the Ricktatorship (that ultimately lost its Rick), Reedus also impacted the beloved comic book adaptation by being a brand new character for the show that was never in the original source material.
This wasn't his first time running around in a comic book world, though, as previously, Reedus appeared in an epic Marvel movie that arrived years before Robert Downey Jr. even got to work on an iron suit. Heading into territory that the formerly Netflix-hosted "Daredevil" and "The Punisher" shows wouldn't even dare to tread, Reedus was a supporting star in one ridiculously fantastic, sword-wielding sequel to a groundbreaking comic book movie. It was one that came with buckets of blood and a legendary Marvel hero going to work on baddies that would give Negan and a pack of Walkers a run for their money.
Norman Reedus played Scud in Blade II
Though he didn't appear in the action-packed vampire movie "Blade," Norman Reedus joined Wesley Snipes' iconic vampire hunter in the Guillermo del Toro-directed sequel, "Blade II." Released in 2002 — eight years before Reedus would take on the undead every week — the film saw him as Blade's tech guy, Scud. A chain-smoking youngster who kitted out the Daywalker with a whole host of gadgets, Scud clashes with Blade's mentor, Whistler (Kris Kristofferson), as they face off against a new breed of vampire.
A refreshing addition to the film, Reedus' performance was especially impressive given his character's storyline. After spending most of the time as Blade's wisecracking sidekick, it is revealed that (spoilers) Scud has been working for the fanged bad guys all along. The revelation goes out with a bang, though, after it's also revealed that Blade has been onto Scud from the beginning, and he uses one of Scud's thought-to-be dud explosives against him, blowing him to smithereens.
Since then, while Reedus has been busy on AMC's flagship zombie-focused show, there have been rumors linking him to the role of "Ghost Rider," with hints that Marvel is considering bringing that hell-born hero to the big screen again. Here's hoping there is some truth to these, as it would be great to see things come full circle and watch Reedus ride out alongside Mahershala Ali's all-new Blade as a hero himself, albeit a very hot-headed one.