Latest – The Fijian Drua have made history, defeating the Melbourne Rebels 31-26 for their first-ever Super Rugby win.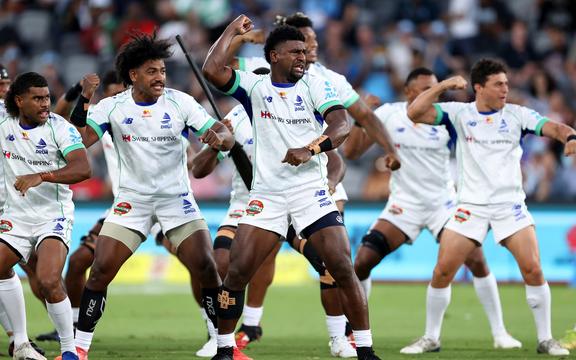 Photo: (AAP Image/Brendon Thorne) NO ARCHIVING, EDITORIAL USE ONLY
The tournament newcomers went into Friday night's match as underdogs following heavy defeats to the Waratahs and Brumbies in the opening two rounds.
Following the game in Queensland, the Drua head coach Mick Byrne said he was pleased the team stuck with their plan.
"I said it last week, and we have been training well, we have been training our game well, and I think just getting use to the fact that the physical nature of Super Rugby and as I've said, I'm pretty much repeating myself again, I'm proud about the boys went about their task," Byrne said
"We've got two players who have Super Rugby experience, so we just have to keep building each week and getting use to turning up the next Monday and going again for the next week."
Byrne said the team have been working extremely hard since the first day of training, and tonight, they got their just desserts.
Fijian Drua fought back from 14-nil down to take a lead they never relinquished, and notch a historic, first-ever Super Rugby victory.
Meli Derenalagi was captain on the night. He said the message to the boys before the game was just to go outside and enjoy it.
"Even though we went down for first the two games but we need to stand out and try to be competitive for this Super Rugby."
Onisi Ratave, Vilive Miramira and Apisalome Vota all dotted down for Mick Byrne's heroic team.
The Drua will next meet the Reds.
Jorge Masvidal signs contract ahead of UFC 272 bout
Jorge Masvidal signed a lucrative new contract with the UFC just hours ahead of Sunday's UFC 272 welterweight main event against Colby Covington in Las Vegas.
Terms of the deal were not disclosed, however Masvidal thanked his management team and UFC president Dana White over social media on Thursday night for "making sure my kids will never go hungry again."
Masvidal's co-agent Malki Kawa of First Round Management shed a bit more light on the deal over social media.
"New fight contract that makes jorge top 3 highest paid in ufc," Kawa wrote on Twitter. "Good work team! Thank you (UFC) and (UFC chief business officer) hunter Campbell specifically for working on this contract with us."
Masvidal, 37, enters the bout having lost two fights in a row to Kamaru Usman.
Masvidal (35-15) and Covington (16-3) both fighting out of South Florida, and they were training partners at the vaunted American Top Team gym in Coconut Creek, Fla. But things went sideways between the two.
Covington, adopting a pro wrestling style persona, badmouthed Masvidal publicly, considered a no-no in MMA gym culture. Masvidal also accused Covington of stiffing a cornerman on his portion of Covington's pay after a fight.
Both were kicked out of the gym as their beef heated up, but ultimately Masvidal was invited back while Covington's ban became permanent.
–Reuters
Cross-country skiing-Norway's Johaug slides into retirement
Four-times Olympic gold medallist Therese Johaug of Norway has announced her retirement from cross-country skiing, ending a career in which she also amassed 14 world championship gold medals.
Johaug, who missed the Pyeongchang Winter Games in 2018 because she was serving an 18-month doping ban, has also won three overall world cup titles. She earned three of her Olympic titles at the Beijing Winter Games last month.
"I don't really want the journey to end, but there is a time for everything, and I think the time has come to do other things than compete in cross-country," she said on Instagram.
The 33-year-old had already announced that the Games in Beijing would be her last Olympics.
Johaug won her first Olympic gold in the 4x5km relay in Vancouver in 2010 and her second, third and fourth more than a decade later.
She won gold in the 10km individual, 15km skiathlon and 30km mass start events at the Beijing Games and also won a bronze and a silver medal at the Sochi Games in 2014.
Johaug tested positive for a banned substance in 2016 and was initially banned for 13 months before her suspension was extended to 18 months by the Court of Arbitration for Sport.
Her last race will be the 30 km in Holmenkollen, Norway on Sunday.
–Reuters